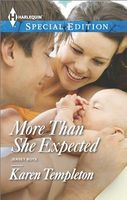 Series:
Jersey Boys
(Book 2)
Neighbor, handyman and…husband? One woman finds her heart's desire right in her own backyard
He's just a friend! is the mantra pregnant Laurel Kent lives by while pretending not to stare at sexy Tyler Noble, the gorgeous neighbor who's been all-too-kindly playing Mr. Fix-It in her house. After all, she needs the help more than she cares to admit -- her sharp-tongued grandmother is her only family. But it's getting nearly impossible to ignore the sparks and butterflies she feels in her tummy every time he smiles at her…and that's not the baby talking!
It's ironic to Tyler that he's repairing the fence separating his yard from Laurel's when all he wants is zero barriers between them! Sure, she's pregnant, and no, she insists she's not looking for Husband #2. But he knows if she'd give him a chance, he could prove that he's the missing piece needed to complete her new family….
Very good book. Laurel and Tyler have been neighbors for a couple months when he finds out that his dog has been visiting her on a regular basis, thanks to a hole under the fence. Replacing the old fence with a new stone wall puts them in each other's company quite a bit, and a friendship starts to develop. Tyler starts looking for more reasons to stop over and visit whenever he can.
Laurel has to admit to herself that her neighbor is certainly easy on the eyes, but she's not looking for a relationship. She is pregnant and on her own, except for her grandmother, and has learned to count on no one except herself. Besides, Tyler is younger than she is and not looking for anything permanent in his life.
Both Tyler and Laurel have secrets and old hurts that make them reluctant to pursue any kind of relationship. The man that Laurel had been in love with didn't want children. He had been married before and his kids were grown, so he ended their relationship. She also had some abandonment issues from her own parents, who had married because they had to. When her mother died, her father turned her care over to her grandmother and pretty much ignored her before he died when she was fifteen. So she is determined to be the best single mother she can be. She enjoys Tyler's company, but she has to keep reminding herself that she's not looking for a husband.
Tyler doesn't realize that Laurel is pregnant when they first start getting to know each other. He enjoys her company but she's nothing like the women he's dated so he's a little confused about why he's so drawn to her. When he finds out she's pregnant it brings his own issues to the front of his mind. His mother had lost custody of him when he was ten because of neglect and he was later adopted by the Noble family. He still never felt like he fit in and tended to take out his feelings in bad behavior. Because of the way he was as a kid, he feels that he would never be a good father and is determined that he will never marry. He can't resist doing anything he can to make Laurel's life easier and gets more and more involved in her life.
Laurel's independence issues cause her to push Tyler away once the baby is born and she insists she doesn't need any help. I liked the fact that Tyler tried to give her the space she wanted, but stepped in when it became obvious she did need that help. I loved seeing the changes that Tyler went through as Laurel and Jonny worked their way into his heart. I especially loved seeing his reaction to the baby's birth. It wasn't until Tyler was able to confront his memories that he was able to fully admit his feelings for Laurel and go for the family he hadn't wanted to admit he craved.
I really liked the theme of the importance of family. Laurel was alone except for her grandmother, but was determined to be happy with what she had. Tyler was part of a big family that, even though he didn't always feel part of it, was always there for each other. I loved the way that his family made Laurel welcome from the beginning. I also liked the way that Tyler had begun to repair his relationship with his mother and how much better it got because of Laurel.
I also liked Laurel's grandmother. She was a feisty lady and had a terrific way of cutting through some of the nonsense that Laurel would occasionally come up with. I got a real kick out of her appreciation of Tyler's looks. I also enjoyed seeing her with her friends at the place she lived and the fun they all had.