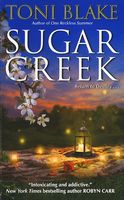 Series:
Destiny
(Book 2)
WELCOME TO DESTINY, OHIO -- WHERE TWO FAMILIES HAVE BEEN AT ODDS AS LONG AS ANYONE CAN REMEMBER.
Rachel Farris returned to her childhood home with one mission in mind: get Mike Romo out of her family's apple orchard business and out of their lives. But hard-nosed and totally hot Mike, who happens to be the law in Destiny, is convinced the Farris clan stole the land from his family fifty years ago and he's not backing down. Even when shapely trouble shows up in a pair of designer blue jeans. However, neither the hunky cop nor the sexy prodigal hometown girl can anticipate the electricity that heats things up whenever they're together -- adding new sizzle to an ongoing feud that's raged for generations, and soon putting both their hearts at risk.
Good book. Rachel has come back to Destiny to help her grandmother with this year's apple harvest. When she arrives she finds out that Mike Romo wants to buy the orchard from her grandmother. The same Mike Romo whose family claims that the Farrises stole the orchard from them years ago. Also the same Mike Romo who gave Rachel a ticket for speeding on her way into town. There is a lot of antagonism between the two of them, but not all the sparks are angry.
I really enjoyed both Rachel and Mike. Rachel has taken a leave of absence from her job to go help Edna, even though her job is in jeopardy from downsizing. She loves her job and living in Chicago, but she feels it's her turn to pitch in. She's not really looking forward to spending a couple weeks in Destiny as she'd been only too happy to get out of the small town years before. Getting pulled over for speeding on the way into town did not make it any better, even worse when she found out he was a member of the Romo family. It didn't stop her from noticing how hot he was, but she sure wasn't going to do anything about it.
Mike is known as something of a hard ass around town because he is intent on upholding the law. He really hates speeders and pulling Rachel over for doing considerably more than the speed limit felt good. Finding out she was a member of the family that had stolen his family's land was just icing on the cake. He didn't like the fact that his body didn't seem to care about that.
I loved the interactions between these two. They started out completely antagonistic, seeming to delight in giving each other a hard time, though never in a hateful way. It isn't too long before they admit to themselves that while they may not like each other, there is something going on. When they get stuck working together at a community event, those sparks suddenly burst into flame, surprising both of them. The next thing they know they're spending time together and discovering that maybe they don't dislike each other as much as they'd thought. But Rachel has no plans to stay in Destiny and Mike doesn't do any kind of emotional commitment, so they decide that perhaps just enjoying some strings free sex would be fine.
Rachel has some issues stemming from her family's fiscal irresponsibility, causing her to be pretty intent on making sure that she has a good job that pays well. She does this partly to make sure that she can be there for family members who may need her help. But the more time she spends in Destiny, the more she starts to enjoy herself. It surprises her when the occasional thought of staying crosses her mind, but her fears won't let her consider it for long, not even when she starts to develop feelings for Mike. I really enjoyed seeing her start to relax and get into her time on the farm. I also loved the way that her relationships with her friends get stronger and she realizes how much she'll miss them when she leaves. But the biggest thing is how much she comes to care for Mike. I loved seeing the way that she doesn't let him get away with grumpiness around her, but she is also sensitive to the reasons he is the way he is.
Mike's issues with getting people to obey the law stem from a tragedy in his past that changed his entire life. That same tragedy has caused him to be completely resistant to letting anyone get emotionally close to him. Staying in complete control of his emotions means he doesn't put his heart at risk. It frustrates him that he can't seem to retain that control around Rachel. He is surprised when he finds himself opening up to her about what had happened to change him, because he doesn't talk about it with anyone. It also scares him because he can see that he's starting to care far more than he is comfortable with. He would like her stay in Destiny, but since she has made it clear that she's leaving he doesn't want to open himself up to the pain of being rejected.
There was a lot of humor throughout the book that made it fun to read. Rachel's grandmother Edna was a whole lot of fun. She doesn't pull any punches when she talks to Rachel and some of the things she says are hysterical. I love some of her comments about Mike's physical attributes and the advice she gives to Rachel. I also enjoyed the story of her relationship with Mike's grandfather and the cause of the feud between the two families.