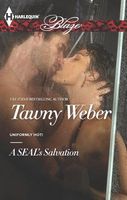 Series:
Sexy SEALs
(Book 3),
Uniformly Hot
(Book 42)
Subject: Navy SEAL Petty Officer Brody Lane
Current Status: On leave
Obstacle: The one girl who was off-limits…
Where Navy SEAL "Bad Ass" Brody Lane goes, trouble follows. Being run out of his hometown years ago for misbehaving with Genna Reilly -- the sheriff's daughter -- was one thing. Now Brody is about to step into real danger. Not the suggestive letters he's been exchanging with Genna, but the kind of trouble that can send a soldier home injured and broken inside…
Genna's entire life has been orchestrated by her family. The right job. The right friends. Enough! Brody's return offers the promise of lust-filled pleasures. Of flesh teased and tasted. She's not expecting to find a soldier with distant eyes who has secluded himself from the world. But this good girl knows exactly how to bring a bad boy back to life….
Very good book. Brody was the bad boy, son of the local drunk. Genna was the seventeen year old daughter of the sheriff, with a huge crush on Brody. One night she took a dare to corner him and kiss him. Just as things were getting interesting they were caught by her father. Brody was given the choice of joining the military or being arrested. Being a smart guy he left town and joined the navy.
Ten years later, Brody is a navy SEAL who hasn't seen Genna since that night. When he receives a letter from her, telling him about her brother's death, he writes back, beginning an exchange of steamy letters. When he gets injured during a mission, his grandmother brings him back to his hometown to heal and try to escape the memories of that mission. He doesn't expect to be faced with Genna almost as soon as he gets there.
Genna has been paying for that one kiss for ten years. Thanks to her brother's out of control behavior her parents became even more overprotective. She's been stuck in her hometown, doing the job her father got her, dating the men they approved of, and never making any waves. When Brody comes back to town she figures it's her chance to live a little.
I loved the two of them together. Genna has always had some sass to her personality, but it's been buried under her efforts to please her parents. It really comes out when she faces down Brody the first time she sees him after he comes back. She doesn't let him get away with hiding out. Brody has always had the bad boy reputation, but under all that attitude is a pretty sensitive guy. The loss of his friend during the mission has caused a loss of confidence in his abilities to protect the rest of his team. He is ready to turn his back on the job that he loves because he feels he isn't capable any longer. The chemistry between Brody and Genna is sizzling, but Brody is determined to resist. I loved seeing the way they settled for friendship at first, giving them a chance to actually get to know each other, before Genna gives in to her attraction and seduces him.
I loved the growth that both characters went through. Just having her hero back in town gives Genna the self confidence to finally stand up to her parents and go after the life she wants. I loved seeing the way that she takes her stress-coping mechanism of baking and turns it into the career she can love. I liked the way that she made her plans with the options that were most flexible for the life she wanted to have. I loved seeing her with Brody's friends who visited and asked her help with Brody. It opened her eyes to more of who Brody is beneath the bad boy exterior. Meanwhile, Brody has had to deal with healing his physical injuries, but also to come to terms with the loss of his friend. He tries leaving the job he loves behind, but his sense of loss gets even worse. It is a conversation with Genna's dad that actually brings him the peace he's been looking for, and is reinforced by Genna in an act that shows just how well she's come to know him.