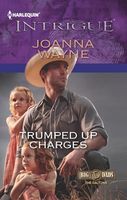 Series:
Big D Dads: The Daltons
(Book 1)
When a mother's love meets a father's instinct…
Ex-Marine Adam Dalton once dreamed of a life with Hadley O'Sullivan, but war and a near-fatal injury cost him dearly. Now he returns to Dallas to discover the unthinkable -- Hadley is the prime suspect in the disappearance of her twin baby girls…the daughters he never knew he had.
Beyond Hadley's terror of having her children kidnapped is the shock of seeing Adam. Yes, she had kept him from his daughters, but now, when he insists they work together as a united front, she knows she is still in love with him. Despite their past, finding their children is their only hope to finally becoming a family -- if time doesn't run out first.
Good book with excellent suspense. Hadley is going through the nightmare of kidnapped daughters when Adam reappears in her life. He has come to offer whatever assistance she needs, just because he has never forgotten her and the love he had for her. He's shocked to discover that he's their father, but it only makes him more determined to find them.
I liked Adam a lot. He's in Dallas for the reading of his father's will, only to discover that he's not dead but has used the ruse to get all his children together. While there, Adam hears about the kidnapping and rushes to Hadley's side to offer her what support he can. He is stunned when Hadley reveals that he's their father. As they work together to find the girls, Adam realizes he still loves her. I loved the way he so fully supports her while the whole thing is going on. He also finally opens up to her about what has happened to him and why he took the actions he did.
Hadley is terrified over the loss of her daughters. When Adam appeared at her door she was shocked, but she found herself leaning on him right away. His strength was about all that was keeping her together. She felt guilty about not telling him that the girls were his, so she finally let him know. Having him there helping her made her realize that she had never stopped loving him. I really liked the way that she got him to open up to her and that she didn't let his injuries bother her.
The romance took second place to the suspense itself. I was hooked from the very beginning. It was easy to relate to Hadley's fear and her frustration with the lack of progress that the police were making. There were glimpses of the kidnapper, but not enough early on to get a good sense of who it was. There were several possibilities and I was kept guessing until nearly the end. I could see how furious Adam and Hadley were over the detective's apparent focus on her as a suspect. I really didn't like his focus on Hadley as it made him look like he wasn't really looking at other possibilities. Things got really intense as it got closer to ransom time. There were a couple interesting twists at the end.
I enjoyed the character of Adam's dad RJ. He's made a lot of mistakes in his life and is now trying to make up for them. As this is the first book in the series, there is a little bit of his backstory at the beginning. I liked his attitude while Adam and Hadley are at his ranch, and how he was helping them. It goes a long way toward helping heal his relationship with Adam. I am looking forward to the rest of the series.
Only issue with the book is Harlequin's continued unwillingness to properly capitalize Marine in its books.