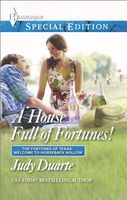 Series:
Fortunes of Texas: Welcome to Horseback Hollow
(Book 4)
A family-focused cowboy falls hard for the most single gal in town!
Toby Fortune Jones has no problem with commitment. He's committed to his ranch, to his family and to the three foster children he's taken in! Lately, though, he can't seem to stop thinking about making a little time for dating. Specifically, one very particular, blue-eyed single gal…
Twenty-four years old and Angie Edwards still can't figure out what she wants to be when she grows up. She's tried her hand at everything -- even helping Toby out with his adorable brood on occasion. Folks in Horseback Hollow have called her the Queen of First Dates, but now she thinks she might have met her match in the sexy cowboy! Is she ready for true love -- and a full house?
Very good book. I really liked Toby and Angie from the very beginning. Toby is a young, single guy but family is very important to him. When he found out the three children were being sent to separate foster homes, he stepped up and took them in himself. It's been a bit of a challenge, but with the help of his family he's doing pretty well. The one thing he hasn't been able to do is carve out any time for a social life. When Angie steps in to help him during a crisis, suddenly he can't get her off his mind.
I really enjoyed seeing Toby handle being a single father. Overall he's doing a fantastic job of it, though he does have a few challenges, especially with the little girl. Pigtails and girly things just aren't something he's had to do before. He's been somewhat familiar with Angie all his life - it is a small town after all - but he doesn't really know her. Her willingness to help him out brings her to his attention, but he's cautious about getting involved with her. She has a reputation of not sticking with anything or anyone for long and the kids don't need anymore loss in their lives. He's also been burned by women who get involved with him because of his Fortune connections, but then can't handle the idea of him having three kids. I loved seeing him get to know her and learn about why she is the way she is. He starts to really enjoy being with her and thoughts of her staying keep popping into his mind. His attraction to her just adds to those thoughts. I loved seeing the appreciation he developed for her and how much he came to care for her. His fears about her not staying around make him think about pushing her away, especially when he runs into some potential trouble regarding his custody of the kids. He really fights with his desire to do what he sees as the right thing and what he wants to do.
Angie has been known for flitting from job to job and date to date. Her father used to tell her to think hard before making a commitment because once you did, that was it. As a result her philosophy is that when she finds something that is right for her she'll know it and there's no sense wasting time on things that aren't. I loved the way she sort of stumbled into helping Toby, just because she felt bad for the little girl who didn't want to go fishing with Toby and her brothers. It was fun to see her doing girly things with Kylie and I loved the way she got her neighbor involved too. She has had a lot of temp jobs and has learned interesting things from each one. There's a great scene where one of her bosses calls her "Little Miss Google" because she seems to know something about everything. I really enjoyed seeing her become part of Toby's family, even though she thought she was not anywhere good enough for him. She has a terrific way of dealing with the kids where everyone ends up happy with whatever she says. She's really attracted to Toby, but tries to resist. The more time she spends with him the more she gets to know him. She's really good at anticipating what he needs and is fantastic at making things easier for him. There's some real emotional turmoil at the end, and I loved seeing the solution that she came up with.
Toby's family plays a big part in the story of course, as they are all very close. I loved the family picnic and seeing how he tries to deal with their nosiness. I liked the way that they all made Angie feel welcome, and how she was comfortable enough to be herself. I also liked seeing the relationship between Angie and her mother and the influence that relationship had on Angie's attitudes as an adult. I loved her relationship with her neighbor Mr. Murdoch and how her caring nature included him too. The scene where he was doing the facial mask with Angie and Kylie was hysterical.
I loved Mr. Murdoch's feisty attitude and how his time as a Marine was made a part of his whole character. He acted like so many of the retired Marines that I know that he felt entirely real to me. The only problem I had was with Harlequin's failure to capitalize properly (marine instead of Marine, marine-corps instead of Marine Corps) but that is an ongoing complaint.