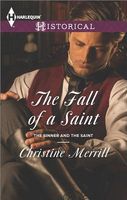 Series:
The Sinner and the Saint
(Book 2)
THE ONLY WOMAN WHO CAN MAKE HIM REPENT!
Honorable -- and handsome to boot! -- Michael Poole, Duke of St. Aldric, has earned his nickname "The Saint." But the ton would shudder if they knew the truth. Because, thrust into a world of debauchery, this saint has turned sinner!
With the appearance of fallen governess Madeline Cranston -- carrying his heir -- St. Aldric looks for redemption through a marriage of convenience. But the intriguing Madeline is far from a dutiful duchess, and soon this saint is indulging in the most sinful of thoughts…while his new wife vows to make him pay for his past.
Very good book with an interesting beginning. This picks up a couple months after
The Greatest of Sins
, which was the story of Michael's illegitimate half brother. Several months earlier, after recovering from a bout of adult mumps, Michael believes he will be unable to have children. He copes by getting drunk and staying that way for several months. During that time he had lost his way at an inn while attempting to find the room of the barmaid he'd made an assignation with. Instead, he ended up in Maddie's room, where he had sex with her before she awoke fully and fought him off. Because of it she lost her job as a governess and fled the inn in shame. Now she has shown up at his home because she is pregnant and needs his help. Rather than just giving her money and sending her away, Michael offers to marry her, giving the baby his name and making sure she is taken care of.
Michael was horrified by what he had done and it was enough to snap him out of the destructive path he'd been on. He had prided himself on being the opposite of his father, earning the nickname of "The Saint". Finding out that Maddie is pregnant is a great joy to him, even in the midst of his shame. He is determined to convince Maddie to marry him. He doesn't blame her at all for her dislike of him and offers her anything she wants if she will marry him.
All Maddie had been looking for was support so that she could raise the baby. She doesn't even want to be in the same room with him. She's heard his nickname, but doesn't believe it, as that's not the experience she had with him. She comes to realize that marriage will ensure the best for the baby, but she vows to make it as hard on Michael as she can. I thought her extravagances and attempts to get to him were pretty childish, but they sort of backfired on her as he was so calm about everything. Things started to change when they left London for the country.
When the arrived at his childhood home, Maddie began to see a different side of Michael. There he couldn't hide the vulnerability caused by his memories of living there. His parents had hated each other and ignored him and it affected everything he did and became. As she sees him going about his daily life she begins to know and like what she sees, and her attitude softens. She also sees her own actions in a poorer light.
Michael's memories of his home make him realize that he really doesn't want to have the same kind of marriage his parents had. His initial determination that Maddie have everything she wants as a method of redemption begins to change as he wants to do things for her because he wants her to be happy.
Things are really starting to look up for them until her first love shows up and wants to pick up where they left off. But Maddie sees him a lot differently now. She waits for some indication from Michael that he cares enough to fight for her and is hurt when she doesn't see it. Meanwhile, Michael is very jealous but he wants Maddie to have what will make her happy, even if that means giving her up. I loved her final confrontation with Richard, and then seeing her have at Michael with her leftover frustration. The conclusion was very satisfying.

I enjoyed the parts that his half brother and his wife played in this book. Having met them in the first book, I loved seeing how they are doing now. Both Evie and Sam take great delight in making sure that Michael doesn't get off too easy.