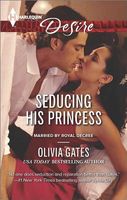 Series: Married by Royal Decree (Book 3)
Mohab Aal Ghaanem once had Jala Aal Masood…and lost her. Now, as a new king, he can end the explosive feud between their kingdoms, and fulfill his parting pledge to the princess of Judar…that he would make her his wife.
Marry Mohab? Six years ago, the prince risked his life to save Jala, igniting her desires…only to betray her trust. Now the ruthless seducer is forcing her into a sham marriage. Will it mean a second chance with the man she still craves…or heartbreak when all their dark secrets are revealed?
Good reunion story. Six years earlier, Jala and Mohab had met when he rescued her and his cousin during a hostage crisis. A short time later he used deceptive means to keep his cousin away from her, making it easier for him to be with her. Their relationship was passionate and intense, but when Jala found out what Mohab had done her feelings of betrayal ran deep and she broke things off.
Six years later Mohab uses her desire to prevent a war over his land's oil to convince her to marry him. He is determined to show her how much he still loves her and make up for his earlier actions. The chemistry between them is explosive and he's sure that it's an indication of her feelings for him too. Jala does care for him, but she's not convinced that his declarations of love are real or if he's just playing a part to get his way. But even if he's telling the truth, she has her own secrets that could destroy any chance they have for happiness.
I had conflicted feelings for Mohab at the beginning. He is definitely an alpha male, strong, intelligent, and very good at his black ops/security profession. His love for Jala at times felt more like obsession, and his actions almost stalkerish. I completely understood why she freaked out on him and left him. He has kept tabs on her after all this time and uses what he knows to get close to her again. Still felt a little bit creepy, but I began to see that he really did love her. He nearly repeated history by using deception to get them together, but came to his senses and realized that the only way to win her was to be honest with her. I really liked seeing him show his love for her in so many ways. He also has a very kind and sensitive side that came out when he introduced Jala to his pets - I loved seeing him with all those cats. He also put together an incredible wedding. I really started to feel for him as he tried everything to win Jala back. His pain when he found out just what was holding her back was heart wrenching. I loved the ending and seeing just how far he would go to finally win her over.
As the youngest in her family, and the only girl, Jala had always felt a bit like an outsider. With three older and very protective brothers, her teen years had been spent under constant surveillance. When she was finally able to break free, her privacy and her independence were very important to her. The intensity of her initial relationship with Mohab was overwhelming and when she found out what he had done she had to break things off or fear losing herself. After telling him she never wanted to see him again, she fled from him. Six years later she is furious to find out she has been manipulated into seeing him again. The fire between them still burns hot and she loses control whenever they are together. She doesn't want to give in to his demands, but she feels she has to in order to prevent a war. Jala finds it hard to resist the efforts Mohab is making to show her how he feels, but she still isn't sure that she can trust what he says. She realizes that her love for him has never died, and wants so much to make a life with him. She feels that it is impossible and tries to break things off again, but his time he won't go. I loved seeing her finally accept the truth of his feelings and forgive him for the hurt he had caused her.