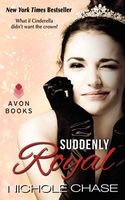 Series:
Royal
(Book 1)
Samantha Rousseau is used to getting her hands dirty. Working on a master's degree in wildlife biology while helping take care of her sick father, she has no time for celebrity gossip, designer clothes, or lazy vacations. So when a duchess from the small country of Lilaria invites her to dinner, Samantha assumes it's to discuss a donation for the program. The truth will change the course of her life in ways she never dreamed . . .
As crown prince of Lilaria, Alex D'Lynsal has had his share of scandalous headlines, but the latest pictures in the press have sent him packing to America and forced him to swear off women. That is, until he meets Samantha Rousseau. She's stubborn, feisty, and incredibly sexy. Not to mention heiress to an estate in his country, which makes her everyone's front-page news. While Sam tries to navigate her new world of politics and wealth, she will also have to dodge her growing feelings for Alex. Giving in to them means more than just falling in love; it would mean accepting the weight of an entire country on her shoulders.
This book was so much fun to read. Easiest way to explain it is that it is sort of a Princess Diaries for grown ups. Samantha is minding her own business as a grad student at the university. She has classes to teach, birds to care for, and her sick father to care about. One day she gets an invitation to dinner from a visiting duchess and assumes she's supposed to talk about their wildlife program, only it doesn't quite work out that way. Samantha is stunned to find out that she's the heir to a title and some lands in the small country of Lilaria.
Alex, crown prince of Lilaria, has come to America with his aunt. It gives him a chance to get out of the spotlight for awhile, after a particularly obnoxious set of pictures ends up in the tabloids. He's going to stick to business and stay away from women for awhile. That only lasts until he meets Samantha. She's not taking any of this too seriously, has no trouble standing up for herself, and has a wicked sense of humor. He also thinks she's incredibly sexy. He's so taken with her that he promises to stick with her as she gets used to her new reality.
I loved Samantha. She's just a normal person, going about her business when she gets hit with the duchess thing. She doesn't let it go to her head, she just wants to go on with her life as usual, but that just isn't going to happen. She has some great moments from the time she goes to her meeting with the duchess right through the next day as she copes with the onslaught of media attention. One thing she has going for her is the able assistance of Prince Alex, who has promised that he won't "throw her to the wolves." She's attracted to him, but he's the prince and way out of her league. He's there for her every step of the way, and he's the one that ultimately convinces her to go to Lilaria. Samantha isn't sure that she's able to do everything a duchess is expected to do but with the help of Alex and others she really starts to settle in. That attraction she feels for Alex is still there, but there's also a real friendship and more that's growing between them also. Alex has made it clear that he's interested in more, but giving in scares her because of the responsibility that would go with it.
Alex is terrific. He may have been a bit of a playboy prince AKA Prince Yummy, but his latest troubles have pretty well cured him of that. He was drawn to Samantha from the minute he met her. He loves the way that she isn't particularly awed by his title and treats him in a normal manner. He's determined to help her get used to her new world. I loved the way that he anticipates her needs and is right there to help and support her. Alex also has a pretty great sense of humor and some of the conversations between the two of them are pretty funny. The more time he spends with Samantha the more he realizes that she is exactly who he wants. He makes his interest in her pretty clear, but he also doesn't try to rush her. It's great to see how well he does at helping her get comfortable in her new role. I loved his patience with her fears and how he was willing to wait for as long as it took. Things really started to heat up once they got together.
The ending was sad and sweet and perfect for the book. I loved Alex's rescue of her and how everyone was there for her when she needed them. I also loved his nervousness on the day of her ceremony and what he did that was so special.
I also liked the supporting cast. Each of them added extra dimension to the story. One of my favorites was Chadwick, her personal assistant. I loved seeing everything he did to help her settle in and also the care he obviously felt for her. I loved seeing the way he was the one to make Samantha see the truth of the feelings she and Alex had for each other.