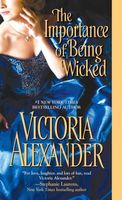 Series:
Millworth Manor
(Book 2)
For Winfield Elliott, Viscount Stillwell, finding a prospective bride always seemed easy. Perhaps too easy. With three broken engagements to his name, Win is the subject of endless gossip. Yet his current mission is quite noble: to hire a company to repair his family's fire-damaged country house. Nothing disreputable in that -- until the firm's representative turns out to be a very desirable widow.
Lady Miranda Garrett expected a man of Win's reputation to be flirtatious, even charming. But the awkward truth is that she finds him thoroughly irresistible. While Miranda resides at Millworth to oversee the work, Win occupies her days, her dreams…and soon, her bed. For the first time, the wicked Win has fallen in love. And what began as a scandalous proposition may yet become a very different proposal…
Fun book. Win hires Miranda's company to do repairs on his fire damaged home. He doesn't expect a woman to show up and run the show. He finds her incredibly appealing but also very frustrating. He has pretty firm ideas on where women belong and it isn't a construction site. Miranda is aware of Win's reputation as a ladies man but is determined to resist his advances. She has to keep her secret or risk losing all she's worked for.
I liked Miranda a lot. She wasn't perfect, but she was fun to read. She has always had a talent for architecture, even though it wasn't an accepted activity for a woman. The architectural firm that her late husband started was modestly successful, especially with Miranda doing most of the design work. That work was kept secret because of the expectations of the time. When he died, Miranda took over running the firm, again making it look like there was still a man in charge. When the firm is asked to do the repairs on Win's family home, Miranda is thrilled. It's just the sort of job they need to cement their reputation. She doesn't expect the attraction she feels for him, or the old fashioned attitudes about women he expresses. I loved seeing her take him on and completely confuse him. She has the ability to talk circles around him until he feels he's won an argument - until he stops to think about it and realizes he's lost again. Miranda has buried herself in her work for so long, since even before her husband's death, that her interactions with Win have the effect of opening her eyes to the fact that she's actually rather lonely. I loved seeing her come out from behind her walls and enjoy her growing relationship with Win. She did start to feel guilty about hiding the truth about her company from him and tried to find a way to tell him without risking the future she wanted with him. I liked seeing the way she acknowledged how much she had changed since her husband's death and the difference it made in the way she looked at her life. The confidence she acquires from running the repairs stands her in good stead as she also begins to push back against the restrictions of her time. I loved seeing her stand up to her brothers and finally tell them exactly what she does. I also enjoyed her conversations with her sister, encouraging her in her own rebellion, and also with Win's mother and her own where her actions encourage them to pursue their own agendas. I hope to see something of them in the future to see what happens with them.
Win is the type of man who has never had trouble getting a woman. He is handsome, fun and flirtatious. He's gotten something of a bad reputation because of his broken engagements, but his behavior lately has been fine. Miranda's appearance as the person in charge of repairing his home throws him for a loop. He has no experience with a woman involved in business and finds it contrary to everything he believes. His blatant disapproval puts him at odds with Miranda and he finds himself in a constant battle with her over the plans for the house. For the first part of the book he lives up to the title of "twit" that she labels him with. He constantly tries to outwit her and ends up wondering how she won again. But the more time he spends with her the more he enjoys their battles and the more he appreciates her abilities. Pretty soon he's the one defending her to her family. He begins to realize that she means more to him than any of his fiancees had, but he is cautious about proposing again. He has insecurities of his own after losing three women and isn't so sure he can trust his judgment. He also fears coming in second to her late husband. It was interesting to see the advice he received from his father and his cousin, as well as his mother and how different it was, leaving him even more confused than he had been.
I liked the story of Miranda's business and the way she was keeping it going. It was interesting to see what she had to go through in order to hide her involvement. The secondary story of the elusive Mr. Tempest was good. I enjoyed Win's determination to find out the truth as a way to protect Miranda after he finally acknowledge her importance to him. Mr. Tempest's identity was a surprise to me though once revealed it was quite logical. I loved the glimpses of what it was like for women at that period in time. It was fun to see other's reactions to the truth about Miranda and the effects it had on their lives. Had so much fun with the men's reactions to the women's activities and plans.