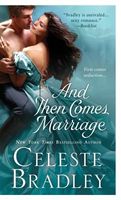 Series:
Worthingtons
(Book 2)
After years of being a quiet, dutiful wife, the recently widowed Mrs. Miranda Talbot is finally free to do as she pleases. As an attractive woman of independent means, Miranda is suddenly turning heads all around town. When she meets the dashing Mr. Castor Worthington, she is swept away by his passion. Is he too good to be true?
Little does Miranda know that there is more to Castor than meets the eye. In fact, he's a twin. Castor's brother, also a confirmed bachelor, takes his romantic pursuits--and rivals--very seriously. When Castor discovers Miranda is being courted by his own twin, his competitive nature takes over. Who will be the one to win Miranda's hand and heart? The race to say "I do "is about to begin...
Very good book that is funny in some places and emotional in others. Miranda's two years of mourning are up and she is ready to start living her life. She is being courted by Pollux Worthington and really enjoys his friendship. She sees him while she's out one day and follows him to speak to him. When she is caught in an explosion he saves her from harm, takes her home, and kisses her. But what she doesn't know is that this man is Poll's twin brother Castor. She's furious when she discovers the deception and vows to avoid them both, until they come to her and ask her to allow them both to court her. They may be twins but they are very different and Miranda is torn between them.
Miranda has spent her life trying to do everything right and avoid trouble. Her parents had had a drama filled marriage before her father went to prison for embezzlement and her mother died. She was sent to live with her grandmother who kept her under rigid control to prevent any scandalous tendencies she might show. She was then married off young to an older, socially rigid man with a sister who was even worse. Now that her husband is dead she finally has a chance to live a little. She also plans to enjoy her widowhood and not marry again, putting herself under a man's control again. She is enjoying the attentions of Mr. Worthington, who has begun to awaken the feminine side of her. It is her following his assets that puts her in danger from the explosion caused by a Worthington invention, and thrusts her into the arms of Castor Worthington.
Castor is intrigued by Miranda and takes her home, thinking to have some fun with the widow. He doesn't realize at first that this is the woman that his twin has been spending time with. Once he does, his competitive nature kicks in and he is determined to be the victor. He doesn't expect Miranda to start to mean more than just a romantic victory, and that really scares him. Castor gave up on the idea of love long ago, when an older woman took advantage of his youth and passion. He sees a need in Miranda to step outside the life she's been living and he wants to be the one to help her do it, but he doesn't want to hurt her either. Being with her makes him want to be a better man, but he doesn't think he's capable of it.
Both Cas and Poll are part of the wild Worthington family. They have always been even wilder than the others, frequently taking advantage of their twinship to create havoc. They dabble in inventing things, but those frequently don't turn out the way they intend. Neither one seems to have much of a moral compass either. Poll tends to be on the nicer side, whereas Cas definitely has a darkness to his soul. They have been best friends all their lives until their competition for Miranda drives a wedge between them. It was hard to see the misery that their arguments caused them and their family. Both Poll and Cas are immature and have quite a bit of growing up to do before they can truly reach their full potential.
The chemistry between them is explosive and Cas introduces Miranda to a side of herself she never knew before. Just as things are starting to look good for Miranda and Cas together, a misunderstanding drives them apart. Cas's insecurities make him overly sensitive to the plans he overhears his brother and sister talking about and he storms away to do something stupid. Miranda is lured into witnessing that stupidity by her nasty sister-in-law, devastating her at what she sees. It is then up to the family to try to bring them together. The emotional turmoil that both Miranda and Cas go through at this point had me in tears. It's at this point that Miranda finally starts to develop her own backbone as she tries to put her life back together. I loved seeing her put that newfound confidence to work, especially when she went after Cas.
There's a lot of humor in the book as the Worthingtons are up to their usual insanity. Where Attie was dangerously out of control in the first book, in this one she wants to help. At first she blames Miranda, but soon grows to like her. She is still pretty devious, and it's fun to see the things she does to "help". There were quite a few places that had me laughing out loud at what was being said or done. I liked the way that she got Mr. Button involved in helping Miranda to look good, even though their intention was initially to draw her away from the twins. I also liked the way that Miranda took an interest in Attie that her own family never did, and what a difference it made to Attie's behavior.
The epilogue shows the changes in Cas and Miranda's life, and gives us a glimpse into what Poll has decided to do. There is also a neat setup into the next book, which is Elektra's story.