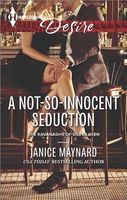 Series:
Kavanaghs of Silver Glen
(Book 1)
Taming the Untamable
Secrets have never appealed to Liam Kavanagh. Not since his father disappeared, leaving Liam responsible for the Kavanagh family and their empire with little room for anything else. But when the mysterious Zoe Chamberlain breezes into his life, stirring up all kinds of pent-up frustrations, Liam knows there's more to her vagabond lifestyle than she's letting on. He can see the secrets in her eyes -- and he wants her anyway. Will she be more than his orderly life can handle? Or will Liam's strong embrace finally allow this free spirit to put down roots and love again?
Terrific start to the series. Liam is the oldest of the Kavanagh family and the one that took responsibility for the family and the business when their father disappeared. Now he tends to be a too serious workaholic. Zoe takes a break from her travels when her van breaks down just outside town. She's not sure that staying is a good idea, but something about Liam and Silver Glen calls to her weary soul.
I really liked both Liam and Zoe. Liam gave up on his own dreams in order to help his family after his father's disappearance. Because he saw what his father put the family through, he doesn't like people who keep secrets. He noticed Zoe as soon as she arrived at his hotel, because of her beauty and also because she didn't look like their usual guest. He's very attracted to her but he can see that she has a lot of secrets.
Zoe has been on the road for many months, never staying in one place for very long. When her van breaks down she takes it as a sign that she should take the opportunity to stay for awhile. She is still recovering from a bad case of pneumonia that has left her physically and mentally exhausted. Liam is nothing like any man she's been attracted to before. She enjoys being with him but she also feels his distrust.
Liam and Zoe are such different types that it was interesting seeing them interact. Liam is serious, focused on making sure everything is just right at the hotel and watching out for his family. Zoe is basically a happy person who loves playing her music for people. I liked the way that she is constantly surprising him and pulling him out of his occasional stuffiness. The chemistry between them sizzles but her secrets are putting a strain on what could develop between them. I liked the way that she started opening up to Liam and telling him some things about herself. When her past catches up with her, Liam is there to support her, but he does it in a way that ends up hurting her more. It takes losing her for Liam to finally confront his issues and take a chance in going after her.