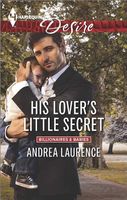 Series:
Billionaires and Babies
(Book 44)
She's kept her baby secret for two years…
But even after a chance run-in forces her to confront the father of her son, Sabine Hayes refuses to give in to all of Gavin Brooks's demands. His power and his wealth won't turn her head this time. She'll let him get to know Jared, but she won't go back to Gavin's privileged world…or his bed.
Yet Gavin never stopped wanting the woman who challenged him at every turn. He has a right to claim what's his…and he'll do just about anything to prevent her from getting away from him again.
Very good second chance story. Gavin and Sabine had had a brief relationship almost three years earlier. But Gavin was rich and Sabine was not, and she had never felt comfortable in his world. She broke off their relationship before she knew she was pregnant and had never told him about it. When Gavin finds out about his son she's okay with letting him get to know Jared, but she won't let herself get sucked back into his life.
Sabine has settled in to being a single mother. Jared is her life and she does everything she can to make it a good one. She has never forgotten the love she felt for Gavin, but her insecurities about fitting into his life had sent her running. She had never told him about Jared, fearing that he would take Jared away and raise him the same way he had been raised. Gavin was stunned to find out about Jared and determined to be part of his son's life. He had never forgotten Sabine and the way she had never been impressed by his wealth. Gavin had gone through his life never expecting a relationship to last because he had been raised by a succession of nannies and boarding schools, therefore he hadn't been surprised when Sabine left him a few weeks into their relationship. He understands her fears about his parenting abilities and works very hard to overcome them. I loved seeing their trip to the zoo. I also loved his reaction to taking Jared to the circus on his own.
Sabine has dealt with the problem of not fitting in her entire life. She was disowned by her parents when she left home to pursue her dreams. While she had never been overly impressed by Gavin's wealth, she never really felt like she fit into his world. Now that he's back in her life she has to overcome those fears if she has any hope of a future with him. I liked the way that she has more confidence in herself now, but those insecurities are still lurking. I really liked seeing Gavin and Sabine work on compromising in order to give Jared what he needs. Their attraction to each other is still as strong as ever and their love had never died. Each of them had to learn to trust those feelings and actually express them. Just as things start looking up for them, their feelings are put to the test. Things get pretty intense but it also helps bring their issues to the surface where they can deal with them. The epilogue was really sweet.