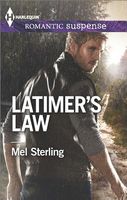 Stealing a pickup truck, newly widowed Abby McMurray hopes to escape her abusive brother-in-law. But the vehicle's owner and his attack dog halt her plans. She knows she's made a terrible mistake. Yet there's something tender about the stranger that makes her feel safe.
K-9 deputy Cade Latimer senses Abby isn't a criminal. And when he sees her bruises, he knows she's running from someone. Physically and emotionally scarred from a botched investigation, Cade has his own demons. Yet he can't resist protecting the gentle woman who's capturing his heart. But little do they know, Abby's brother-in-law will go to any lengths to track Abby down....
Emotional debut book that started with a bang and didn't let up throughout the book. It begins with Abby impulsively stealing Cade's truck, trying to escape her brother-in-law. She's knows it was the wrong thing to do, but she was desperate. Finding Cade and his police dog in the back when she stopped increased her hopelessness. Cade was furious at first, but once he calms down and talks to her he goes into protector mode.
Abby has gone through so much. When her husband died she was devastated and when her brother-in-law offered to help her while she recovered she was grateful for his help. She never noticed the little ways that he was slowly taking over her life until it was too late. His controlling attitude got worse and then escalated into physical violence. She was afraid to try to leave for fear of what would happen if he caught her, and also for fear of what he might do to her adult day care people. When she finally snaps and steals Cade's truck, it's easy to feel her fear and desperation. Being caught by Cade just adds to her fears, especially when he's badgering her for her reasons. She's become so used to not telling anyone what's going on it takes her awhile to realize that she can. She quickly comes to feel safe in Cade's company, and is able to tell him some of her story, while he guesses the rest. Cade's gentle treatment of her and insistence that she's stronger than she thinks begins to build up the confidence in herself that she has lost thanks to Marsh's abuse. I loved seeing her thought processes as she starts to come out of her abused mindset and realizes that she can make the changes she needs to make. I also really liked seeing her look at Cade and see the man, not the scars on his face. Though the story takes place over only three days, she develops a deep emotional connection with him. Her actions at the end show her trying to prove to herself that she's good enough to have a chance that he'd have her back even after all the things she's done wrong.
Cade was an undercover cop who had been hurt while on an assignment. Now he has extensive scarring on his face that ended his undercover career and sent him to work as a K9 officer. He's used to people being repulsed by his looks, but his dog Mort doesn't care. He's furious when his truck is stolen and is determined to punish the thief when the truck stops. He's surprised by Abby and her quick surrender. Something about her makes him want her story before he does anything about the theft. When he spots her bruises he gets a good idea of the reason behind her actions and finds himself wanting to help. He's also attracted to her, but works hard to bury those feelings. Mostly he thinks that there's no way she would be interested in someone who looks like he does. I loved the way that Cade's experiences as a cop made him able to see what Abby has gone through and know how to reach her to build her up. His protectiveness is incredible and his gentleness with her is so sweet. He is surprised by the way that his scars don't seem to bother her at all, and the gentleness she shows him in return starts healing his inner pain. He starts dreaming of a future with her, but isn't sure that she's interested in him past gratitude for his help. I could feel his fear for her when he realized she took his truck to go back to her house and his fear that he wouldn't reach her in time to protect her.
The look into the mind and actions of Abby's brother-in-law was a vivid picture of just how an abuser can think and rationalize their actions. The things that he thought and did were quite frightening and creepy. It was easy to see why Abby had finally reached the point of desperation. Some of the things she found at the house were really disgusting. I loved the final showdown and seeing Cade and Abby look at moving on together.