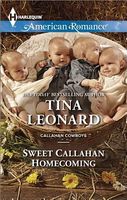 Series:
Callahan Cowboys
(Book 15)
Four Babies -- and Her Whole Family -- to Protect
Ashlyn Callahan has always known that her fate can only bring danger to those she loves. That's why she flees Rancho Diablo -- and the ornery cowboy she loves -- to hide out in Texas Hill Country. But all hell breaks loose when Xavier Phillips finds her…and her four newborn babies.
Xav finally tracks down his warrior woman -- only to discover she's the mother of two perfect little boys and two perfect little girls. And he's the father! Now Ash has to marry him. With the future of Ash's entire clan at stake, Xav is ready to lay his life on the line to safeguard the family legacy. Not to mention create a homecoming -- and a wedding! -- worthy of his Chacon Callahan bride!
Excellent conclusion to the series. I have been looking forward to Ash and Xav's story since they were first introduced. Ash may be the youngest of this branch of Callahans, but she's strong, independent and very determined. She has been attracted to Xav from the beginning and has had no problem letting him know her interest. In earlier books it was great fun to see her chase him down and see him be just as determined to resist her. She is also certain that she is the focus of her uncle's threats against her family. As the threats escalate, Ash starts trying to put distance between herself and Xav in order to protect him. Soon he is the one pursuing her.
When she thinks she has killed her uncle she flees New Mexico for Texas to protect them all. Xav is determined to find her and when he does he gets quite the surprise - Ash and four beautiful little babies. He is determined to get her to marry him so he can protect her and the children. He has a fight on his hands because Ash is afraid that marrying him will put him in even more danger.
The push and pull between these two as each tries to convince the other of their position was great to see. Neither denied that the love between them existed, but both felt that protection of the other was the most important. I loved Xav's patience and persistence. He didn't yell, he didn't fuss (much), he was just always there backing her up, even when she didn't want it. And no matter how hard Ash tried to shut him out of her plans to stop her uncle, there was always a part of her that was glad he was there.
By the time the end came I was glad to see that they had stopped fighting each other and started to work together. The two of them together made a fantastic team. It was also interesting to see how Xav's pragmatism stood up against Ash's spirituality and the balance they brought to each other.
The culmination of the story of Wolf's attempts to drive the Callahans away from Rancho Diablo was very good. In previous books we've seen him kidnap and attack, and aid the drug cartel that had driven the Callahan parents into Witness Protection. In this book he has reached the pinnacle of his desperation to steal the land and everything that goes with it. The final showdown was just nervewracking enough to make me wonder if he was going to get away again.
The final scene of Xav and Ash's wedding was great. Even though Ash had given up on the idea of the magic wedding dress for herself, I loved seeing how the magic came through for her. There was also one final, wonderful twist during the wedding that made a perfect ending to the series.