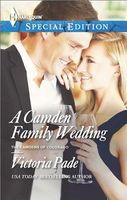 Series:
Camdens of Colorado
(Book 4)
A wedding planner finds herself fantasizing about planning her own wedding to the last man she'd consider marriage material ...
Oh, the irony! Just when wedding planner Vonni Hunter has given up finding a husband of her own along comes breathtaking bachelor Dane Camden. He wants Vonni to plan his grandmother's wedding, and then come to work for the Camden conglomerate. The bad business blood goes way back between their families, but Vonni just might let this man persuade her to do anything -- anything!
No matter how lost he gets in Vonni's beautiful eyes, Dane has no intention of making his merger offer more personal. The single life suits him to a tee. But behind the scenes, the matchmaking matriarch of the Camden clan is pulling the strings, so resistance just might be futile….
Good book. Dane has an assignment from his grandmother. He is to get Vonni hired to plan her wedding and he is also to offer her a job with the Camden stores setting up and running a wedding planning division. His grandfather and great-grandfather had cheated her grandfather many years ago, and this is their way of making amends. He also suspects that his grandmother has an ulterior motive, but he's not interested in settling down.
Dane is one of the three oldest of the ten siblings and cousins that were raised by his grandmother after their parents' deaths. He spent a lot of time taking care of the younger ones, plus going to all the activities expected by his grandmother. He is now enjoying the life of an unattached bachelor and has no intention of changing that status. He feels he's already done the parenting thing and putting his own wants and needs aside for those of others. But that doesn't mean he won't enjoy Vonni's company as they work on the wedding plans.
Vonni has decided to take a break from men for awhile. She has spent her entire dating life with the goal of finding a husband and having the family that she wants. Several relationships looked promising until the men decided they weren't ready after all. She is tired of putting off all the other things she wants while she's looking, so she is giving up men for some "Vonni time". She's going to buy a house, get a dog, take the vacations she's put off. Then Dane shows up with his two proposals. She's thrilled to be asked to work on a Camden wedding, knowing that it could be just what is needed to get her the partnership she's wanted for years. She's not so sure about the offer to work for the Camdens, since there is such bad blood between the two families. She's not so sure she can trust them.
There is an instant attraction between Dane and Vonni. But Dane is honest with her about his anti-marriage attitude, and Vonni will not get involved with a client. That doesn't mean that they can't enjoy each other's company. I loved seeing Vonni work her wedding planning magic, all the time keeping Dane from being too outrageous with her. She really enjoys his company and finds herself giving in to spending more time with him than she thinks is wise, but she can't resist him. She has to keep reminding herself that he isn't husband material, but her heart wants to hold out hope.
Meanwhile Dane is fighting a battle of his own. He has never had trouble sticking to his no commitment rules in the past. He keeps his personal life and his professional life separate. But in this case he's just having too much fun hanging out with Vonni. He's still trying to get her to agree to come work for him, so he has extra incentive to be with her. So why does he find himself actually missing her when he doesn't see her for a day or two? That's never happened to him before and he's not so sure he likes it. I really enjoyed his voyage of self discovery as he finally realized why he'd had no trouble with previous women and what the difference was about Vonni. I loved what he did at the end and how he convinced her of his feelings.
The only thing left that I would have liked to have seen would be the reaction of Vonni's "boss" when she made her decision about whether to work for Dane. I'd love to be a fly on the wall for that discussion.