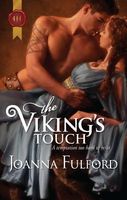 Series:
Victorious Vikings
(Book 2)
His old life shattered, Wulfgar Ragnarsson lives only for the moment, cheating death and growing rich as a legendary mercenary. His heart may be frozen, but his desire burns hot for courageous widow Lady Anwyn, who needs his protection....
For the safety of her son, Anwyn will risk everything. Even giving herself to a Viking warrior who teaches her not all men are monsters -- although he shows little sign that he will ever again be capable of love.
After the deaths of his wife and son due to an epidemic that swept through his lands, Wulfgar and his men have spent the last six years as mercenaries. Wulfgar feels guilty that he had spent so much time away from his family and swears that he will never get emotionally close to anyone again.
Anwyn lost her husband a few months ago and rejoices in it. He had been a brutal man who enjoyed inflicting pain on her. She has no intention of marrying again, but the neighboring lord, Ingevar, has designs on her and her land.
After a storm damages his ship Wulfgar lands near Anywyn's home to make repairs. The neighbor tries to run him off, but Anwyn intercedes and invites Wulfgar and his men to stay as long as they need to for their repairs. After receiving threats, Anwyn first hires Wulfgar and his men as additional protection, but then proposes a marriage of convenience to protect her from forcible marriage to someone else.
Anwyn's experiences with men have been limited to types like her late husband, but she senses there is something different about Wulfgar. It doesn't take long for her to discover that he is both honorable and amazingly kind. It doesn't hurt that he's darned good looking too. I liked the courage that she showed in standing up to Ingevar, and also in overcoming her fears to ask Wulfgar for his help.
Wulfgar has spent the last six years actively seeking death, only to be defeated by his own abilities. I loved the way that Anwyn gets under his guard and he finds himself wanting to help her. He lets her know that he won't stay, even if they marry, but that he'll make sure she's well defended before he leaves.
Wulfgar's kindness to her and her son soon has Anwyn falling in love with him. She dreams of him staying, even though he has made it clear that he won't. Wulfgar also finds himself dreaming of staying, but his certainty that he would make a terrible husband and father forces him to continue his plans to leave.
Wulfgar nearly loses everything because of his fears, whereas Anwyn does a much better job of leaving her past behind. I really enjoyed seeing her confront Wulfgar about his fears and point out what he is doing to them both. His "ah-ha" moment came almost too late, but he did manage to save the day.
I did get frustrated with his actions regarding Ingevar, as by giving in to Anwyn regarding his fate he set up the trouble that came at the end. He'd have done better to follow his instincts, at least the second time, and explained to her why he did it.
I did enjoy the epilogue a lot. It was fun to see them a year down the line.