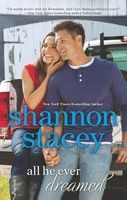 Series:
Kowalski
(Book 6)
Josh Kowalski is tired of holding down the fort -- better known as the Northern Star Lodge -- while his siblings are off living their dreams. Now that his oldest brother has returned to Whitford, Maine, for good, Josh is free to chase some dreams of his own.
As the daughter of the lodge's longtime housekeeper, Katie Davis grew up alongside the Kowalski brothers. Though she's always been "one of the guys," her feelings for Josh are anything but sisterly. And after a hot late-night encounter in the kitchen, it's clear Josh finally sees her as the woman she is.
Katie's been waiting years for Josh to notice her, but now that he has, she's afraid it's too late. Giving her heart to a man who can't wait to leave town is a sure way to have it broken. But could it be that everything Josh has ever wanted is closer than he could have imagined?
I loved this book. Josh has been one of my favorite characters from this side of the family and I was so happy when he finally got his story. Josh got stuck with running the family lodge by default when his father died and his siblings already had their own lives away from Whitford. He has dreams of his own that don't include the lodge. The only thing that has made life bearable for him is hanging out with his best friend Katie. But when she moves into the lodge to help out her mom, Rosie, something changes. Josh runs into her in the kitchen late one night when she's wearing somewhat skimpy pajamas. Suddenly he realizes that Katie isn't just his best buddy, she's also a woman and a pretty hot one at that.
With her mom being the housekeeper and surrogate mom to the Kowalskis, Katie has been around them all her life. She's been in love with Josh for years and frustrated by his "best buddy" attitude. Now that he's actually seeing her as a woman, she couldn't be happier - except that he still plans to leave as soon as he can.
This was so much fun to read. Everyone in town can see that Katie and Josh belong together. Josh's obliviousness is amazing to see. He spent so long resenting being stuck running the lodge that now that the end is in sight he can't see anything else. I loved their late night encounter and the way that Josh is so completely blindsided by his sudden attraction to Katie. His internal dialog is absolutely hysterical as he tries to cope with these new feelings. As they are thrown together to help Katie's mom, Josh continues to fight his feelings, fearing that getting involved with Katie will ruin their friendship and also cause him to give up his dreams. I loved seeing him finally give in. Instead of damaging their friendship, it seems to make it stronger as their feelings give it new dimension. I loved seeing the way that being with Katie settles his feelings somewhat, but his need to leave is still there. When he's given the opportunity to go, he is so conflicted. There's a lot of heartache for him as he realizes his two greatest desires are incompatible. I loved seeing his journey as he follows his dreams and learns what is most important to his heart.
Katie was great. She is comfortable with herself as she is, but fears that Josh will never see her as more than his friend. I loved her reaction to their kitchen encounter, and his actions the next day. She sees his reactions but his fighting of it really frustrates her. Her decision to shake things up was great, and I loved seeing what she did on Christmas Eve that pushed things over the edge. But now that they have made that jump, Katie is afraid that things are going to change for the worse. She can see that he is still not completely happy and that he still needs to leave Whitford. She wants him to stay but thinks he will begin to resent her for keeping him from his dreams. I ached for her as she let him go, but was so happy that she loved him that much. I loved seeing her keep their friendship alive during his journey and what a difference it made to them at the end.
There was so much fun to Josh and Katie's romance, as they deal with reconciling their romance with their long friendship. The banter between them was great, from their bet about Max's job to their attempts to keep their new relationship secret. I loved seeing various other characters get involved, from helping Katie with her Christmas Eve plans to ragging on Josh about not seeing what was in front of him the whole time. I loved Katie's ability to see what Josh needed and put her own dreams on hold to make his come true.
I loved Katie's mom Rosie and her vital part throughout the books. She was such a great mom figure to them all. It was fun to see her behind the scenes work to get Josh and Katie together. I also loved seeing her with Andy and how she goes from hating him in the first book to love in this one. Andy's patient devotion to her was terrific. I also loved his part in making Josh's dreams possible.