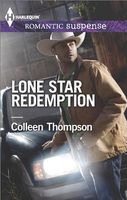 Series:
Lone Star
(Book 1)
RUSTED SPUR, TEXAS, IS FULL OF SECRETS… UNTIL NOW
Desperate to find her missing twin, Jessie Layton arrives at the Rayford ranch, the last place her sister was seen. But after meeting Zach Rayford, the reporter is left with only more questions. Like why is the extremely handsome rancher defending his family's obvious lies regarding her sister?
Zach vowed to protect his family, but it's become more complicated…especially with his growing attraction to Jessie…. But even as they spar, a lethal danger pursues Jessie. Together they risk their lives confronting secrets that could destroy Zach's family…if he chooses to do right by the headstrong woman who's corralled him!
Excellent book that kept me intrigued from the first page. Jessie is searching for her sister and all clues lead to the Rayford ranch. When she shows up at the ranch and talks to Zach and his mother all she gets is more questions. It's obvious that Nancy knows more than she's telling and Zach is protecting his mother. When Jessie continues her investigation she is threatened, attacked and her cameraman is murdered. But she refuses to give up before she finds her sister.
Zach came home to help his mother after the death of his brother. Her health has been fragile and he tries to keep her from being stressed. Jessie's appearance obviously upsets his mother, which has him questioning some of his mother's claims. He is especially suspicious of the identity of the little girl his mother says is his niece, especially once he sees Jessie.
Jessie and Zach are attracted to each other, but they are also wary of trusting. Jessie can tell that Zach is hiding something from her, but she also feels like he is her only chance of finding Haley. Zach has had a really bad experience with reporters which affects the way he looks at Jessie. He believes she really is looking for her sister, but he's still not sure she's not going to do some sleazy report on the events taking place. As they work together to try to find out what happened to Haley their attraction to each other grows. I liked their strong commitments to their families as it showed what they could be like with each other. It wasn't until toward the end that I felt that they were actually getting to know each other, but Jessie's fears were holding her back.
The mystery continues to build as more things happen to Jessie and Zach. Every time a new piece of information is discovered it seems to create more questions rather than provide answers. There were several interesting twists to the story, with a real surprise in the resolution. There was also an extra twist involving Jessie herself that made a future for her and Zach look questionable. I really enjoyed seeing Zach come after Jessie when that problem got fixed..