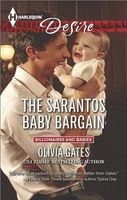 Series:
Billionaires and Babies
(Book 45)
He'd come for the baby…and his ex-wife.
Naomi Sinclair had once fallen hard for Andreas Sarantos. Marrying the irresistible Greek venture capitalist had seared her soul with pleasure -- and despair. For she soon discovered he was incapable of love. Now her ex-husband is back…to claim her orphaned ten-month-old niece.
Andreas let Naomi get away once. But adopting his best friend's baby girl gives him the leverage he needs to bring his unwilling ex-wife back to his bed. Will having the only woman he's ever wanted erase the scars of his dark past? Or will he lose Naomi, this time forever?
Good book, full of incredibly intense emotions. Naomi had relentlessly pursued Andreas years before, hoping that the intense passion they felt for each other would grow into love. Instead she found that the only time they connected was in bed. When she finally admitted to herself that staying with him would destroy her, she left, begging him for a divorce. Four years later she is stunned and furious when he shows up claiming guardianship of her orphaned niece and demanding she remarry him if she wants to remain in Dora's life.
I would have liked this better if I hadn't spent the first half of the book completely detesting Andreas. His actions had all the appearance of emotional abuse. He was obsessive in his desire for her, but when they weren't in bed he completely ignored her. The first time she left him, he came back with an offer of marriage, but his behavior never changed. He ignored all her efforts to tell him why she was so unhappy. When he showed up again, this time to claim Dora, he used her to try to get Naomi back. His actions were just as manipulative as they had been before. When she goes to his older brother for help in stopping him, there is finally a hint that he's not as bad as he appears. He is stunned to discover that she really had been unhappy married to him, that all her complaints hadn't just been temper. He realizes he has to convince her that things can be different, but he's honestly not sure that he can do it. It's at this point that a different side of Andreas starts to appear. He spends more time with Dora, getting more comfortable with her, though I was irritated by his unemotional actions with her. I found his reasoning with her when she misbehaved unbelievable, as ten month olds are not reasonable beings. He also spends time with Naomi, refraining from any kind of physical pressure, trying to show her the changes he is trying to make. Unfortunately, he still hasn't learned that he actually has to talk to her about his plans and reasons for doing things. I loved seeing him open up enough to tell her about his past and the reasons he had acted as he did. He was finally allowing himself to feel the emotions that had been locked up for so long, but he was still afraid to actually say the words. It wasn't until a heartbreaking twist at the end drove her away that Andreas found the courage to take those last steps.
Naomi turned out to be a much stronger person than I expected at first. She was determined to get involved with Andreas even though he told her it wouldn't work. She gave up everything that she was in order to be the person she thought he wanted, just because she loved him so much. I wanted to shake her when she married him the first time thinking that things would be different. When she finally realized that he would never give her what she needed most from him she left for good and tried to put her life back together. When he showed up at her home I couldn't believe that she let her passion for him take over the way she did. Her fears of losing Dora were overwhelming. I loved seeing her blast Andreas over his uncaring actions. It was also interesting to see her conflicts. She was afraid of the way he still made her feel, but she was also willing to do almost anything not to lose Dora. She had to deal with having Andreas back in her life, but she was having a great deal of trouble believing the changes she saw in him. Once she learned of his past she saw his actions in a different light. She came to realize that she had never stopped loving him, but didn't believe he had any feelings for her. The more she saw of him the more she believed that she was only included because he needed her help with Dora. She loved the way that he and Dora bonded but she began to believe that she wasn't of the least bit of interest to him at all. When she learned of a secret he had been keeping from her it only reinforced her beliefs, destroying what happiness she had managed to attain. I loved seeing the way that Andreas came to her and how his actions finally convinced her of his love. There was also a nice little surprise for them both at the end.
I loved catching up with Andreas's brother and sister and seeing the family start to come together after being torn apart for so long. I loved seeing Ari again and watch the effect that his happiness had on Naomi and on Andreas. I also liked the way that Ari tried to help Naomi. It was really interesting seeing Andreas discover that his family had continued to care for him even though he had been so awful to them all. It was fun seeing them all at the family get together and the effect they had on both Naomi and Andreas. It was sweet to see how Cali and Ari showed Andreas where he had gone wrong with Naomi and his surprise at what they told him.