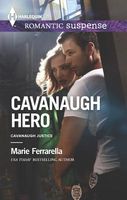 Series:
Cavanaugh Justice
(Book 26)
A serial cop killer has Aurora's police force up in arms. And when the former chief gets hit, it becomes personal for Detective Declan Cavanaugh and his beautiful new partner, Charley Randolph.
Charley first took notice of the sexy, devil-may-care detective at the academy. Now she has no desire to get involved with a fellow officer. But as the bodies pile up and the threats grow more ominous, Charley must trust Declan not to reveal her true reason for working the case. Racing against the clock draws them closer--their forbidden attraction is as impossible to deny as the grave danger they're in.
Very good book. I really liked both Declan and Charley. The serial killer started the killing spree by shooting Charley's half brother. She was the one who found him and was determined to be involved in finding the killer. She knew she'd be shut out if anyone knew Matt was her brother, so she kept that information to herself. Declan was the detective assigned to the case and agreed to see if she could help. Both had noticed the other when they were at the police academy years earlier. Declan had been a chick magnet and had no trouble taking advantage of it. He was interested in Charley but thought she was married so he left her alone. Charley had also noticed him but had no intention of getting involved with anyone. She pretended to be married so the guys would keep their distance. Seeing Declan again brought back the same feelings but she still didn't want to get involved.
I loved the way that Declan and Charley interacted with each other. I think they were fairly comfortable with each other from the beginning because they had known each other before. Once Declan found out that Charley was single he was certainly more interested in her, but he did try to restrain himself at the beginning. I loved seeing his protectiveness come out as he tried to keep her from overworking on the case. The more he got to know her the more he realized he was different than anyone else he had been with. Charley was wary of Declan at first because of what she remembered of him, but soon saw the difference in him. I loved seeing her stand up to him when he tried to shield her from things but also give in when she knew he was right. She had never had family other than her brother so she was intrigued by the closeness of the Cavanaugh family. I loved her surprise at the way the whole family just made her part of them, and how moved she was by their appearance at her brother's funeral. The ending was intense with the confrontation with the killer and made both Declan and Charley realize what their true feelings were.
The suspense of the story was very good as Charley and Declan tried to figure out who the killer was. There was definitely a lot of frustration as more officers were killed and there were no clues. I could feel the tension after Andrew was shot and they finally got a break. There was a very interesting twist to the identity of the shooter that I really didn't see coming.
As always, the Cavanaugh family get togethers are fun. I enjoy seeing previous characters and what is happening with them now. I loved Charley's reaction to them. One of the best things is how they are always there to support each other and the people they care about. When Andrew was shot, once again most of the family ended up at the hospital, driving the nurses nuts as usual. I loved her comment "You all should just get your own hospital."