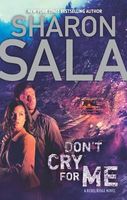 Series:
Rebel Ridge
(Book 2)
Mariah Conrad has come home. Badly wounded on active duty in Afghanistan and finally released stateside, she has no family to call on and nowhere to go -- until Quinn Walker arrives at her bedside. Quinn…her brother-in-arms, ex-lover and now maybe her future.
Quinn brings Mariah to his log cabin in the Appalachian Mountains of Kentucky to rest and recuperate both physically and emotionally. While she's incredibly grateful, Mariah is also confused and frustrated. She's always stood on her own two feet, but now even that can literally be torture. She's having flashbacks and blackouts, hearing helicopter noises in the night. She wants to push Quinn away -- and hold him closer than ever.
But will she get the chance? Those helicopters are more than just post-traumatic stress; they're real -- and dangerous. Bad things are happening on the mountain. Suddenly there's a battle to be fought on the home front, and no guarantee of survival.
Very good book. Quinn has been home from the war for three years and is still fighting the aftereffects. He still has nightmares and flashbacks, but he's better than he was. He has a job as a backcountry park ranger so he doesn't have to deal with too many people. When he hears that Mariah was wounded and has no place to go when she gets out of the hospital he brings her to his place to finish her healing. They had had a hot and heavy romance back when they served together and she was the one who saved him when he was injured. He has never forgotten her and is looking forward to being with her again.
Mariah is surprised to see him, but happy to have someplace to go. As a foster child all her life she is used to depending on no one except herself and finds being dependent extremely frustrating. Her attraction to Quinn is as strong as ever, but until she feels like she is truly recovering she won't allow herself to think of a future with him.
I really liked both Quinn and Mariah. Quinn knows his strengths and weaknesses and is able to work his life around them. He still fights his PTSD, frequently waking with nightmares. He's close with his family, and appreciates that they've been there for him throughout his recovery. When he hears about Mariah he doesn't even think twice about bringing her back to his home. I loved seeing how his own experience made him so much more sensitive to her needs. It was quickly obvious how much he still cared for her, and how that love was shown in everything he did for her.
I also loved seeing Quinn doing his work as a ranger. He loved his job and it showed. The scenes with the rogue bear were very intense and his determination to find the poacher who created the problem was there throughout the book. It also showed that he would see a problem through to its end no matter what.
Mariah was a terrific character. I loved her independence and her sassiness. She had cared for Quinn back when they were together and that caring had never disappeared. Having him show up when she was at a pretty low point gave her a boost that she really needed. I loved the give and take teasing between them and how it helped keep Mariah grounded. Her flashbacks and nightmares scare her because she doesn't know if she'll ever feel normal again and she won't commit to anything with Quinn until she she does. I loved her determination to fight her fears, including going into the forest that is an alien world to her. Her confrontation with the rogue bear was heartpounding as she dealt with it and then the following flashback. I also enjoyed seeing her get to know Quinn's family. Having no family of her own she is fascinated by their interactions and also by their immediate acceptance of her. I loved seeing her improve physically and mentally thanks to her own determination and Quinn's love.
The suspense part of the book was great. The rogue bear at the beginning seemed to be unconnected until later in the book when it was explained. The appearance of the local "bad boy" who had moved on to bigger things started the ball rolling on the trouble that came to Rebel Ridge. It was interesting to see things from his point of view and follow along as things began to unravel. The various members of the supporting cast for his "business" were well drawn and provided additional dimension to the bad guy's actions. The buildup to the showdown was excellent. I loved seeing how everything came together. I really loved the strength of will that Mariah showed and the reactions of the people around her.