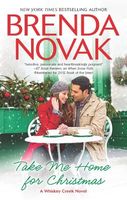 Series:
Whiskey Creek
(Book 5)
Christmas is a time for remembering…
Too bad not all memories are pleasant! Everyone in Whiskey Creek remembers Sophia DeBussi as the town's Mean Girl. Especially Ted Dixon, whose love she once scorned.
But Sophia has paid the price for her youthful transgressions. The man she did marry was rich and powerful but abusive. So when he goes missing, she secretly hopes he'll never come back -- until she learns that he died running from an FBI probe of his investment firm. Not only has he left Sophia penniless, he's left her to face all the townspeople he cheated.…
Sophia is reduced to looking for any kind of work to pay the bills and support her daughter. With no other options, she becomes housekeeper for none other than Ted, now a successful suspense writer. He can't bring himself to turn his back on her, not at Christmas, but he refuses to get emotionally involved. He learned his lesson the last time.
Or will the season of love and forgiveness give them both another chance at happiness?
This was a very emotional story. Sophia has been a secondary character throughout the series. Everyone remembers her as the spoiled snob who broke their friend Ted's heart. Then she married the richest man in town and seemed to delight in rubbing it in. There have been hints that all is not right with the marriage but no one has pursued it. When her husband dies while running from the law, having stolen money from his investment firm, most people think she got what was coming to her. She's not coping well with everything that happens until her daughter and Eve snap her out it. Sophia has no training of any kind and desperately needs a job to support herself and her daughter. Though he still feels a lot of resentment over their past he can't stand to see her suffer so he hires her to be his housekeeper. He doesn't expect her to be any good at it, but he'll give it a shot. One thing he won't do is allow himself to get involved with her.
I really liked Sophia. I've always felt like there was more to her than people gave her credit for. She was terribly abused by her husband but hid it very well. Her daughter was everything to her and she would put up with anything to keep Alexa safe. She ended up with a drinking problem that she was just starting to beat when everything happened. Once she got past the initial depression, thanks to help from Eve, she started showing an amazing amount of strength of character. I loved the fact that she didn't whine and complain. When Ted offered her the job as his housekeeper she was determined to do it well. She had always regretted the way she treated him and this gave her a chance to make it up to him. She had never forgotten her feelings for him and his kindness to her has brought those feelings back to the surface. I also really liked how good she was as a mother. Alexa is her whole world and she will do anything and put up with anything to keep her safe. The slow buildup of the rekindled romance between Sophia and Ted was perfect for them. I really enjoyed seeing what they did with her wedding ring at the end of the book.
Ted has never really gotten over his feelings for Sophia. His attitude toward her has been borderline cruel but he's been doing it to protect himself. When her life falls apart he tries to stay out of it, but he just can't keep from helping her. He keeps fighting his feelings but he can't win. He doesn't expect much from her when she starts working for him and is pleasantly surprised to see how well she does. His attitude toward her undergoes a gradual change as he sees how different she is than what he expected. One of the things I really liked about him was the way he supported her when Alexa had problems at school. I lost some of my respect for him when he started a relationship with Eve because he knew he was doing it for all the wrong reasons. I loved seeing him try to protect Sophia at various points in the story. It was great seeing him finally admit to his feelings and do something about it.
This is another book where Eve irritated me. I had high hopes for her when she stood up for Sophia among her friends and helped her get the job with Ted. She was the one among all of them who actually got truly involved in trying to help Sophia. I loved the "intervention" that she and Alexa did. Then she turned around and put the moves on Ted. Her desperation to find a man really made her look pathetic and her subsequent bitchiness about Sophia was beneath her.
I was really disappointed in the attitudes and actions of the people of Whiskey Creek. I understood their anger at Sophia's husband. But the way they treated Sophia and Alexa was really not what I expected from them. The scene at her house was simply heartbreaking. I have had a real problem with the police chief in earlier books and this one was even worse. I loved seeing what Ted did at the end.