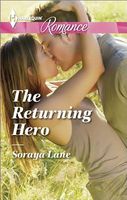 Series:
Soldiers' Homecoming
(Book 1)
You can't help who you fall for…
Six months after her husband's death, Jamie knows she has to start living again. And when fellow soldier Brett Palmer turns up, Jamie knows it's fate. Brett is the only other person who can make her feel alive again.
Brett swore he would protect Jamie, but being so close to her is driving him insane. So Brett does everything he can to fight their connection. Until the words slip out -- he's always loved her. With a second chance staring them both in the face, there is no going back….
Wow, what an incredibly emotional book. Jamie's husband Sam was killed in Afghanistan six months earlier. She is slowly recovering from her loss with the help of her husband's military working dog. When her husband's best friend turns up to check on her Jamie is glad to see him. She, Sam, Brett and their other friend Logan have all been friends for a long time. Brett had promised Sam that he would watch out for Jamie but he hadn't realized how hard it would be.
Brett had met Jamie first but he had a girlfriend at the time. By the time he was free and saw her again, Jamie was in love with his best friend Sam. So Brett kept his feelings locked down and stayed in the friendship zone. Now Sam is gone, Jamie is free and Brett's survivor guilt is killing him. He tries really hard to fight the feelings but eventually it all comes out.
Jamie desperately misses Sam but she knows she has to move forward. Brett's arrival is like a ray of light in the darkness surrounding her. His friendship has always been special to her, but now there seems to be a new intensity to it. Without Sam there to provide a buffer the connection she felt to Brett the first time they met is back and stronger than ever. Jamie knows that Sam would want her to be happy, but she doesn't know if she can convince Brett of that.
Soraya Lane does an incredible job of showing the depth of the emotions and trauma that the characters go through. Jamie's happiness at having someone she can talk to about Sam is clear, as is her initial dismay at the attraction she feels for Brett. She feels disloyal to Sam until she realizes that he wouldn't want her to stop living. She is surprised to find out that Brett has loved her for all these years. She is nervous about pursuing her growing feelings because she doesn't want to ruin their friendship. I loved Jamie's sensitivity to Brett's fears, and also her strength in not letting him hide them from her. Her actions in regards to his scars showed just how deep her feelings for him really were.
I loved the realism of Brett's feelings. He doesn't hide his grief over the loss of his best friend and his own working dog from Jamie. His inner turmoil over his long standing feelings for her make his mission even harder. He fights to keep those feelings secret from her until he just can't do it any longer. He also makes sure that she knows he would never have done anything to come between her and Sam. I loved the way that he kept trying to slow things down between them. His sense of honor also kept him from hiding their relationship from their friend Logan even though he knew what Logan's reaction would be. I loved seeing the way that everything worked out for them. The importance of the bond between the dog and its handler was also shown very well. I really enjoyed seeing what an essential part of the story Bear was. I especially loved the river scene at the end. I'm really looking forward to Logan's story.