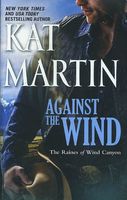 Series:
Raines of Wind Canyon
(Book 1)
Secrets don't stay buried long in cattle country. Sarah Allen, the beautiful girl who humiliated Jackson Raines in high school, is back in town. Not so long ago, she couldn't wait to leave Wind Canyon, Wyoming, in her dust. But, recently widowed, she has nowhere else to go and finds herself on Jackson's ranch. And despite everything, Jackson's finding himself reluctant to get rid of her.
Sarah brings her own kind of trouble, and he can't resist trouble. Enemies of her dead husband show up making threats, thinking she has something they're owed. They're not taking no for an answer, but what they will take is the one thing she has left -- her daughter. Jackson's the only one who might be able to save little Holly and bring her home.
Good book that kept me interested to the end. Sarah has returned to Wind Canyon after the murder of her husband. She had left town in search of a better life and thought she found it, only to find that her husband was abusive and a crook. She has sold everything to pay his debts but is still being harassed by people who are looking for something he had. She has gotten a job with the local paper and rented a cottage for herself and her daughter on one of the local ranches. Then she discovers that the ranch belongs to Jackson Raines, the guy she treated so badly back in high school.
Jackson and his brothers were the local bad boys. Their parents were drunks and the boys were constantly in trouble. Jackson had left town after high school and ended up making a boatload of money. He then came home and bought a ranch. He's not at all happy to find Sarah on his ranch, as he still remembers his humiliation at her hands. She appears to have changed, but he's not inclined to trust her. However, when trouble follows her to Wyoming he steps in to help her.
I liked Jackson. He is the type of man that can't walk away from someone in trouble. Though he isn't sure whether he can fully trust her, he can see that Sarah is in bad trouble. I liked the way that he wants to help her find out who is after her and why. He is also still attracted to her which adds to his desire to help her. As he learns more about what her marriage was like he's impressed by the strength she showed to survive it. Though he hasn't had any plans to marry the more time he spends with Sarah and her daughter the more the idea appeals. I really liked the close relationship he has with his brothers.
Sarah was a little harder to like, at least at the beginning. Her treatment of Jackson in the past had been needlessly cruel which didn't set a good tone. I was a bit more sympathetic to her as more details of her marriage were revealed. It was a little hard to believe in her quick relationship with Jackson as I expected her marriage to have had more of an impact on her feelings about men. She comes to love him very much, but fears what her troubles could do to him so she tries to end things. She also has more issues from her marriage than she has told him about.
The mystery itself was pretty well done. Each time that Jackson and Sarah think that they have made progress something else is uncovered that leads them on another chase. There were a few things that went on that stretched believability a bit, but overall kept me involved. The final confrontation at the end was definitely intense and kept me wondering if everyone was going to come through it okay. There was a very interesting twist involving the identity of her husband's murderer that I really didn't see coming.