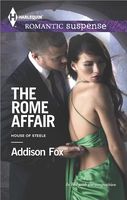 Series:
House of Steele
(Book 3)
Two security experts must work too closely for comfort
Jack Andrews has once again snatched a covetable job from the House of Steele. But now that the assignment has gotten complicated, he must call upon the last person he wants to ask for help: Kensington Steele. Jack never flinches at danger, but working side by side with his fascinating, sexy competitor might be more than he can handle.
When the assignment brings them to the Italian vineyard of a corrupt diplomat, Kensington vows to keep things professional, even if working as a team fans the flames of their mutual desire. But once a murderer begins stalking them, they realize getting close may be the only way they'll survive....
Really good book. Kensington starts off the book really ticked off. The House of Steele security firm has just lost another job to Jack Andrews. So when Jack shows up at her office she's not inclined to listen to anything he has to say - until he tells her that he needs her help. She's still wary but he's pretty much challenged her to accept. I loved the sparks that flew from the moment he arrived. She is definitely attracted to him but there's something about him that irritates her too. Jack is attracted and intrigued. He takes her to a jewelry store he's investigating and is very impressed by her quick thinking. Jack enjoys flirting with her and making no secret of his attraction to her, while Kensington tries her best to keep him at arm's length.
The Italian government has asked their help in investigating a corrupt diplomat who is suspected of drug trafficking and diamond smuggling. Kensington and Jack each have specific strengths that they will have to use to determine what is going on. I especially liked Kensington's abilities to find out almost anything via the computer. She really surprises Jack with some of the things she finds out. There are quite a few twists and turns to the revelation of exactly what is happening and who is behind it. I have to admit I had my suspicions fairly early and couldn't understand how they had neglected to suspect that person.
From the investigation of the first murder to the final confrontation the danger keeps increasing. I was pretty sure who was behind it all, but there were times I wondered about whether certain other characters were involved. There was one that kept me wondering until the very end.
Both Jack and Kensington occasionally have a hard time keeping their minds on the case. The heat between them keeps increasing even as they battle the issues that could keep them apart. Kensington fears the loss of loved ones because of losing her parents when she was young. She tends to use work to keep people at a distance and protect herself. Jack works alone, also not letting people get close. His mother abandoned him and his sisters when they were young and he still blames himself. His coping strategies are pretty interesting and I loved Kensington's reaction to them. Neither of them shares their pasts easily but it means more when they do. One thing that both had in common was their love of and closeness to their families. I really enjoyed Jack's sister's comments to him about Kensington, and Kensington's siblings all had a few things to say also (loved Rowan's comments about Jack's butt). The epilogue was a nice conclusion to the book.