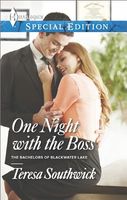 Series:
Bachelors of Blackwater Lake
(Book 2)
It's not business. It's personal!
For years, executive assistant Olivia Lawson has been faithfully holding a torch for her hunky boss. But she doesn't need a memo to see she's stuck in the friend zone! Olivia decides she needs to look elsewhere for love. So she invents a long-distance boyfriend -- the perfect excuse to quit her job and move away -- and gives her two-weeks notice.
Tycoon Brady O'Keefe is stunned by the extent of emotion that Olivia's resignation releases! He soon discovers Olivia's boyfriend is a sham, but rather than tip his hand, Brady decides to romance -- and seduce -- her into staying. Now Olivia must choose whether to stick to her guns -- or follow her heart into the arms of the man she loves!
Very good book. Olivia has had enough of waiting for Brady to notice her as a woman, submits her resignation, and prepares to move away. She's tried twice before and he has always managed to talk her into staying, so this time she invents a boyfriend to help show him she's serious. Brady can't believe she's actually going to leave this time. He tries everything he can think of to get her to stay, but has no luck. When he discovers that the boyfriend doesn't exist he decides to try romance and gets more than he bargained for.
I really liked both Olivia and Brady. Olivia has been in love with Brady for years and living on the hope that he would eventually notice her as a woman, not just a friend. After five years she's ready to give up. She wants a home and family of her own and she realizes that she'll never get it with Brady. She has little confidence in her ability to stand up to him on her own, so she invents "Leonard", a man she met on a business trip to help make her point that she's leaving. She feels guilty about lying, but she's desperate to get away. She thinks she's finally got him convinced until he kisses her during one of their discussions. She finally got one of her dreams fulfilled, but there's still no indication that he wants something lasting. I loved the way that Olivia was so good at standing up to Brady in most things. She was aware enough of her own weaknesses where he was concerned that she knew she needed some kind of backup plan to resist his efforts to keep her there. It was fun to see her try to make things up as she went along, forgetting that Brady knew her well enough to suspect that there was something weird going on. I loved seeing her take what she wanted after the employee celebration and ached for her as she gave up on her dream.
Brady has kept a lid on his emotions for years, equating love with loss. He lost his father to a massive heart attack his last year in college and his best friend soon after that. He and Olivia have known each other all their lives and she has been the best assistant he could ever have. He hates change, and when she has tried to quit before he has always been able to talk her into staying. He is stunned when she insists that this time she will leave whether he likes it or not. I loved seeing him try to delay her departure by refusing to hire a replacement and seeing her thwart him at every turn. He's really surprised by her claim of a boyfriend since he's never heard her talk about Leonard before and is a bit suspicious of her refusal to tell him anything. I loved how he got caught snooping. Brady doesn't understand why he's suddenly so irritated by the thought of Olivia with a boyfriend or looking at her as something other than a friend. I loved seeing his pride push him into kissing her to prove a point and totally losing control of himself. Discovering that Leonard doesn't exist made him decide to try to seduce her into staying, thinking if they could sleep together and get it out of their systems everything could go back to normal. He's blown away by what happens between them and retreats in fear of the strength of his emotions. I loved seeing his confusion as he tried to deal with it all. I loved seeing his sister try to explain things to him and had to smile when he finally got it. The ending was pretty sweet.