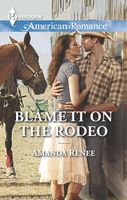 Series:
Ramblewood
(Book 3)
A Secret The Size Of Texas
Veterinarian Lexi Lawson has her hands full--and not just when she's delivering foals at the Langtry family's ranch. Working there forces Lexi to confront Shane Langtry, the man who broke her heart. True, he seems different now--more generous, more grounded. But Lexi isn't fooled: Shane lives for rodeo competition and nothing else. Besides, after what he did to her, there's no way she'd take him back.
Long ago, when they were in love, Lexi hid a terrible secret from Shane--one she planned to keep forever. But when he learns the truth, she's forced to choose between the past she left behind...and the future they might still find together.
Very good book. Lexi came back to Ramblewood to work after ten years away, even though she knew she would be around Shane again. They had been in love but while she was away at school Shane had had a one night stand with a rodeo groupie. That woman ended up pregnant, so Shane broke things off with Lexi and married the other woman. He later found out that the child wasn't his and ended up divorced and childless. Shane is still a rodeo star and has also started a rodeo school with his family. Being around Lexi has shown him that he would really like to have her back in his life, if she'll only forgive him. But then something comes up that really changes their relationship.
I liked both Lexi and Shane, though there were times that he irritated me. He comes across as pretty self centered for a good share of the book. He is a rodeo rider and focused on winning a championship. He is also very charming and a flirt who has had the reputation of being something of a womanizer. He has admitted his mistake that caused his breakup with Lexi and would really like a second chance with her. He's finally gotten to the point where she'll speak to him, but he wants more. He is still in love with her but doesn't want to admit it. He is also busy with the rodeo school and he works a lot with one of the young students who ends up playing a huge part in the story. There is a really terrific scene with Shane and Hunter at the diner, where thirteen year old Hunter is giving Shane advice about women. Shane spends a lot of time thinking about his rodeo goal and also an offer to do a reality show and what they will do for him. Things seem to be getting better with Lexi when he finds out about a secret she's been keeping from him. He doesn't react well and Lexi really blasts him with some things he had never thought about. It was a real eye opener for him and really gave him something to think about. Once he adjusted to the news I loved seeing the way he and Lexi dealt with it together and how it made their relationship stronger.
Lexi had been heartbroken when Shane broke up with her. She transferred schools out of Colorado and rarely came home to visit over the next ten years so that she wouldn't see him. When she was offered a job back home doing what she loved she couldn't stay away any longer. Being around Shane is hard because she is still attracted to him. There are times that she sees changes in him, but she's not sure she can trust him. Spending more time around Shane and his students makes her think more about their past and the secret she kept from him. She never intended to tell anyone until it was discovered and she had no choice. I really liked the fact that she had made her decision for all the right reasons and stood by it even in the face of Shane's anger. I liked the way that she stood up for herself and told him off for his attitude. She had gone through a lot of heartache back then and also now as she searches for the truth. I really enjoyed seeing her able to work things out with Shane. The ending was fantastic.
I loved the part played by Hunter. He was a fun kid and pretty smart for a thirteen year old. I loved his hero worship of Shane, and also that he saw Shane as a real person who makes mistakes. It was fun to see him give Shane a hard time about girls. I loved his reactions to the birth of the foal.