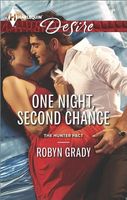 Series:
Hunter Pact
(Book 3)
It was a mind-blowing night of passion between complete strangers. Or so it seems…
Then publishing mogul Wynn Hunter discovers that the ravishing temptress who'd shared his bed was none other than his childhood nemesis, Grace Munroe. No wonder he didn't recognize her -- the scrawny, pigtailed brat has blossomed into a dazzling beauty.
Disastrous romances have made them both wary of entanglements. So when Wynn lures Grace to Australia for a family wedding, they're determined to keep things light. But when life-threatening chaos erupts in Wynn's family, can these childhood adversaries find the courage to fall in love?
Fun book, but very emotional too. The night that Wynn and Grace spent together they thought they were complete strangers looking for a few hours of forgetfulness. It was quite a shock to run into each other at the wedding of mutual friends and discover just how far back their connection went. Wynn remembers what a pain Grace had been during that shared family vacation and has a bit of trouble at first putting that memory to rest. Neither can deny the intense attraction they feel and make the decision to enjoy being together for the short time they have.
Grace had been looking for a way to escape memories that night and found it with Wynn. Her last relationship had ended a year ago when the man she was seeing had died in an accident. She carries a lot of guilty feelings about that relationship and is avoiding getting involved with anyone new. The connection she feels with Wynn has given her a chance to move on but she isn't looking for anything permanent. The more time they spend together the more she gets to know him. In spite of their growing relationship Wynn still insists that there is no longer any place in his life for a family of his own. Grace sees how much he loves his family and his little brother and falls for him even more. When she realizes that he won't look at the possibilities of having a future she lets him know she needs more than he's willing to give and breaks things off. I really enjoyed the relationship that the two of them had. There was so much fun in the teasing they did about their childhood conflict. I really liked seeing how being with Wynn started healing her heart. I also liked the close relationship she had with her sisters and how helping her one sister also showed her how to move on from her own failed relationship. It was great to see Grace stand up for her own needs when it came to being with Wynn.
Wynn has a lot going on in his life. He had a breakup with the woman he loved when she decided she didn't want to continue their relationship. This caused him to entirely give up on the idea of having a family. I loved his shock at finding out that the woman he'd had that incredible night with was Grace. He still remembers the trouble she caused him and it creates some interesting conflicts in his mind. He knows that she won't be in New York for long so he persuades her into being with him while she's there. He finds himself having such a good time with her that he asks her to go to Sydney with him for his brother's wedding. Their connection gets stronger but he still refuses to admit that he's falling for her. It isn't until she walks away from him that he can accept his feelings and then he has to figure out how to fix it.
Wynn also has some stresses going on at work. As the head of the publishing branch of the family business he has to deal with the changes in the publishing industry. He has some ideas on what he wants to do but they go against everything his father believes it. This causes a lot of tension between them which is aggravated by an underhanded trick his father pulls. Wynn loses his temper and says something that his dad overhears that makes things even worse. There is also the question of who is trying to hurt or kill his father. There has been some progress on the search for the attempted abductor from earlier in the series, and in this one there is an explosion at the wedding. I have a suspicion now on who it is, but will have to wait until the next book for confirmation.