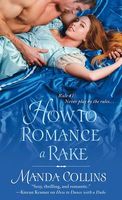 Series:
Ugly Ducklings
(Book 2)
You can lead a wallflower to the ball, but you can't make her bloom--unless one daring young bachelor turns up the heat...
What's a nice girl like Miss Juliet Shelby doing at a place like Lord Deveril's ballroom? With her shy demeanor, she's a total stranger to the dance floor and a source of mockery for the ton. So imagine her surprise when Deveril gallantly comes to her defense--and offers to teach her to dance! Juliet can hardly believe the most handsome bachelor in London would notice her, until he takes her in his arms and sets her heart ablaze...
Lord Alec Deveril has never felt such a spark of attraction for an unmarried lady before. Unlike the "fashionable" ladies he's accustomed to, Juliet possesses a generous spirit, a fiery intelligence--and an explosive secret. Deep in the London underworld, a dear friend has vanished, and Juliet fears the worst. Deveril insists on helping, escorting her through the darkest alleys in town. But he too is hiding a shocking secret--and the only way he can defeat the devil in his past is to seduce the angel in his arms...
Good book with two wonderful characters. Juliet is a quiet girl who is usually found around the edges of the ballroom. She has a pronounced limp because of an accident years earlier and is often made fun of by some members of society. She is stunned when Deveril comes to her defense against a couple of the nastier women and offers to teach her to dance. Alec isn't sure why he's so intent on helping Juliet, but help her he will.
Juliet is an amazingly strong woman. She has been through a trauma that would have broken many others and not only isn't bitter but has a terrific sense of humor and an intelligence that is truly unusual. She has been kept on the sidelines of society by her mother who is so concerned that Juliet might embarrass her because of her disability that she puts Juliet down constantly. She has made it clear that as far as she is concerned no decent man will ever want Juliet. She is pushing Juliet to accept the advances of a man that Juliet finds very disturbing. When she goes too far in her demands, Alec takes Juliet to her cousin's home, but knows the only way to truly protect her is to marry her himself.
I loved Alec from the very beginning. His rescue of Juliet from those women at the ball was wonderful and I loved the way that he stayed with her. His offer to teach her to dance was sweet, even as he couldn't understand why he was so drawn to her. He has spent years trying to build a good reputation in order to counteract the stigma of his father's actions. He fears that he has inherited his father's temperament and has sworn that he won't allow himself any strong feelings for a woman. He can't deny what he feels for Juliet and finds himself growing ever closer to her. I loved the way he couldn't resist kissing her and how surprised he was by the strength of their attraction. He is infuriated by her mother's actions and realizes that the best thing to do is marry her quickly and get her away.
I loved the trip to Scotland and the wedding at Gretna Green. Alec's did his best to make Juliet feel comfortable with him. He could tell she was nervous about something and tried to put her at ease. I really liked his nervousness and the way it showed how important she already was to him. Juliet's fears about his reaction to her injury were very realistic. I loved the way he treated her and how he showed her that it didn't change his feelings at all. His attitude went a long way toward improving her confidence in herself after years of abuse by her mother.
Thanks to her mother the extent of her disability became common knowledge and society didn't react well. Juliet wasn't so concerned about herself, but she worried about the effect on Alec, especially as their marriage had been going so well. Alec has been fighting some of his own demons and when his uncle tells Juliet some of it, Alec is sure that she will be disgusted with him. He is stunned when she not only doesn't blame him, but shows him how wrong he had been all this time. I loved the way that this really showed how much they had come to care for each other, even though they had yet to admit it.
The mystery that ran throughout the book was very good. Juliet's music teacher has gone missing, leaving her child behind. Juliet is very worried and accepts Alec's help in trying to find her. I loved the way they worked together and how much Alec respected Juliet's intelligence. While the bad guy was who I thought it was, there was a very interesting twist to the resolution that I really didn't see coming. It created some real danger for both Juliet and Alec, but it coming through it they were finally able to confess their feelings.
I really enjoyed the close relationships of the three cousins and how they supported each other. Since Cecily married in the first book, she is now in a better position to help the other two. I loved her efforts to get Juliet to believe in herself. I also enjoyed Maddie's advice to Alec and his complete shock over it. The three gentlemen were also great friends and great backup for each other when needed. Winterson gave Alec the kick in the pants he needed but also the support necessary to get Juliet to safety. I loved Monteith's snarkiness and am really looking forward to the matchup between him and Maddie in the next book.
The only issues I had with the book were a few editing ones. There were several problems with consistency that had me confused. One with Juliet's maid being where she hadn't been before, but the biggest being with Juliet's injury changing location several times. It wasn't enough to ruin the book, but I did find myself rereading a couple sections to make sure I hadn't missed something. I also found the title of the book misleading, as Alec was definitely not a rake.