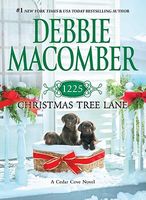 Series:
Cedar Cove
(Book 12)
The people of Cedar Cove know how to celebrate Christmas. Like Grace and Olivia and everyone else, Beth Morehouse expects this Christmas to be one of her best. Her small Christmas-tree farm is prospering, her daughters and her dogs are happy and well, and her new relationship with local vet Ted Reynolds is showing plenty of romantic promise.
But...someone recently left a basket filled with puppies on her doorstep, puppies she's determined to place in good homes. That's complication number one. And number two is that her daughters Bailey and Sophie have invited their dad, Beth's ex-husband, Kent, to Cedar Cove for Christmas. The girls have visions of a mom-and-dad reunion dancing in their heads.
As always in life -- and in Cedar Cove -- there are surprises, too. More than one family's going to have a puppy under the tree. More than one scheme will go awry. And more than one romance will have a happy ending!
Very nice conclusion to the Cedar Cove series. Beth moved to Cedar Cove after her divorce three years earlier and took over the Christmas tree farm. Things are going very well and she's looking forward to her college age daughters visiting for the holidays. She has a nice friendship going with the local vet and the potential for it to be more.
But things are getting a little stressful. Someone left her a basket of ten puppies that she needs to find homes for before Christmas. And her daughters have invited their father to Cedar Cove to spend Christmas with them, with the intent of getting them back together.
The main plot of the reunion between Beth and Kent was very nicely done. The more she thinks about seeing him again, the more Beth realizes that she regrets their divorce. She wishes she had tried harder to save their marriage. She's just starting to get excited about seeing him again, when Kent arrives with another woman. This brings her dreams to a screeching halt. Something seems a little off, though, as Danielle is the complete opposite of the type of woman Kent would care for. There also doesn't seem to be much affection displayed between them. It was sometimes fun and sometimes painful to see the way the two girls tried to push Beth and Kent together while at the same time keeping Danielle away. When they were together their feelings were obvious to others but not necessarily to them. I loved seeing the way that they reconnected as they reminisced and got to the point where they could talk about what went wrong. There was an interesting twist involving Danielle at the end.
The rest of the book was made up of visits with previous characters from the books. I enjoyed seeing where each of them is now. It was fun seeing the ones who decided to get puppies from Beth. I also liked catching up with the ones who had potential romances in the works and see if they panned out. I will miss the Cedar Cove series, but will eventually read the new series that takes place there.