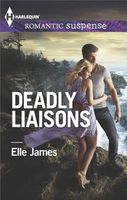 Series:
Devil's Shroud
(Book 3)
People have been known to perish at McGregor Manor...
Opening her B and B to a group of ghost hunters, Molly McGregor hopes the spirits rumored to be there will appear. She needs the weekend to be a financial success. But when disembodied voices and hazy images nearly lure her to her death, Molly's driven straight into the arms of a sexy but mysterious guest--Casanova Valdez.
Nova knows what it's like to be haunted--by memories of a case gone bad. As a secret agent, he's confident he can protect Molly but is not exactly sure he believes in ghosts. As the mysterious incidents targeting the gorgeous redhead become increasingly more dangerous, Nova must question if it's the handiwork of a ghost...or a killer.
Good book. I liked the suspense and the chemistry between Nova and Molly is great. Molly is hosting a ghost hunters weekend at her B and B when things start to get a little scarier than she expected. First she hears voices calling for help in the fog. Then a "ghost" pushes her down the stairs. She's happy that secret agent Casanova Valdez is there to watch out for her. Nova is there because his team just finished a mission there at Cape Churn (see
Deadly Engagement
). He's supposed to leave the next day, but he's drawn to Molly and stays to keep her safe.
Molly loves her B and B. It has been in her family for a long time and is the house she grew up in. To keep from having to sell it, she turned it into a B and B, but she still struggles to make ends meet. Because it is supposedly haunted, she's counting on this ghost weekend to bring in some needed revenue. Nova is there with his team members and some locals having dinner to celebrate the end of their mission. She can't keep her eyes off him, but she's aware of his reputation as a ladies' man. When an accident with his car keeps him there for an extra night, the attraction they feel heats up. He's there when she is pushed down the stairs, and since he doesn't believe in ghosts he suspects one of the ghost hunters. Molly is happy to have him staying close to her as strange things continue to happen. Molly is happy to have Nova there, and is certainly enjoying having him close, but she is trying very hard not to depend on him too much. She's lost enough people in her life that she feels it's better to count on no one else being there for her. I loved the way that she found herself dreaming of what it would be like if he stayed. I really liked the way that her enthusiasm for her home and her town were so evident in the way she talked about them to others. Her independent spirit also gave her the ability to stay calm in a crisis, which came in very handy!
Nova hadn't been able to keep his attention off Molly during dinner. Besides her beauty he was really impressed with the way she kept things running smoothly. He just kind of rolls his eyes at the ghost hunters since he doesn't believe in ghosts. He has even fewer reasons to believe later that night when someone pushed Molly down the stairs. I loved the way that he immediately jumped in to take care of her and even help out at the B and B. As the weekend went on and strange things kept happening he was determined to protect her. I loved seeing him go from a love 'em and leave 'em kind of guy to one who is actually thinking about putting down roots. He has to overcome the demons of his past, especially the death of the woman he had loved and whose death he felt responsible for. I loved seeing him do all kinds of things he would have never considered before and the satisfaction it brought to him. It was great to see how his whole attitude changed the closer he got to Molly.
The mystery was very well done. From the cut brake line to the final showdown I was completely involved in the story. There were two things going on - the ghost hunting and the attacks on Nova and Molly and the need to see if they were related. I loved all the descriptions of the ghost hunt and the stories of the various ghosts. The seance was really spooky and the things that happened during it gave me goosebumps. The mystery of the attacks was also great. I had a feeling I knew who was behind them, but there were enough questions that I wasn't completely positive. I really liked the epilogue and hearing the results of the ghost hunt.