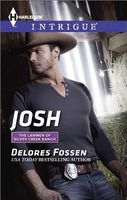 Series:
Lawmen of Silver Creek Ranch
(Book 7)
FBI agent turned Texas deputy Josh Ryland is stunned to find pregnant hostages on a routine check for suspicious activity at a remote ranch. Even more shocking is the identity of one of the captives. Five months ago, Josh and FBI special agent Jaycee Finney shared a weekend of passion that ended badly. Now she's in danger -- and claims he's her baby's father.
Jaycee owes Josh the truth. After her unwitting reckless behavior almost got him killed, the cowboy cop has good reason not to trust her. But with the ruthless mastermind of a black market baby ring gunning for her, it's Jaycee who has to trust Josh with her life…and the life of their child.
Very good book that grabbed me from the first page. Josh is a former FBI agent who has come home to Silver Creek to recover from injuries sustained in an operation that went bad. He's taken a leave of absence and is working as a deputy for his cousins in the sheriff's department. While on a stakeout checking on suspicious activity, he is surprised to find fellow FBI agent Jaycee as one of the captives, and even more surprised to see that she's pregnant.
Josh is determined to get Jaycee and the other women to safety, but he's hesitant to trust Jaycee with anything more than getting her out of danger. She is the reason his last operation went bad, by getting involved in an investigation by herself, not knowing there were already undercover agents in place. He nearly died from his injuries and is still experiencing pain and flashbacks.
Jaycee is carrying a lot of guilt over her actions and she really wants a chance to explain herself to Josh. She also needs to tell him that the baby she's carrying is his, the result of a night of passion just before he got shot. Thankful for her rescue, she wants to redeem herself by helping Josh take down the black market baby ring that had kidnapped her and others. She doesn't expect that the attraction she felt for Josh is still there and stronger than ever.
Josh really wants to protect Jaycee and the baby she's carrying. He wants to lock her up some place safe, but knows her well enough that he knows it will never happen. I loved seeing them try to fight their attraction while at the same time working together. Both of them had to decide how much of the past to allow to influence their future.
The investigation itself was pretty intense, with frequent attempts by the bad guys to get Jaycee back in their hands. There were several people who could have been the mastermind and I went back and forth in my belief as to just who it was. The final confrontation kept me hooked until everything came together.
I loved revisiting the Ryland clan as they all got involved in solving this mystery. Once again we see how important family is to all the Rylands, and how they are there to support each other personally and professionally.