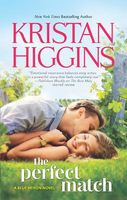 Series:
Blue Heron
(Book 2)
What if the perfect match is a perfect surprise?
Honor Holland has just been unceremoniously rejected by her lifelong crush. And now -- a mere three weeks later -- Mr. Perfect is engaged to her best friend. But resilient, reliable Honor is going to pick herself up, dust herself off and get back out there…or she would if dating in Manningsport, New York, population 715, wasn't easier said than done.
Charming, handsome British professor Tom Barlow just wants to do right by his unofficial stepson, Charlie, but his visa is about to expire. Now Tom must either get a green card or leave the States -- and leave Charlie behind.
In a moment of impulsiveness, Honor agrees to help Tom with a marriage of convenience -- and make her ex jealous in the process. But juggling a fiancé, hiding out from her former best friend and managing her job at the family vineyard isn't easy. And as sparks start to fly between Honor and Tom, they might discover that their pretend relationship is far too perfect to be anything but true love….
Overall a good book. Honor has been in love with Brogan since they were teenagers, though they've been friends even longer. She's thirty-five now and is tired of waiting for him to pick up on the fact that she loves him, even though they've occasionally done the "with benefits" thing. So she goes to him and suggests marriage and is utterly humiliated when he not only rejects the idea but compares her to an comfortable old baseball glove. She still wants a husband and family of her own, so she's determined to get back out there.
Tom is a British college professor who stayed in the States when he fell in love with an American single mother. When she died before they got married he was left with no rights in regards to her son Charlie, but he stayed in order to be close to the boy. Now his work visa is going to expire and if he doesn't find a way to get a new one he'll have to go back home, leaving Charlie behind.
When Tom and Honor are set up by his aunt and her grandmother, the initial meeting doesn't go well. But Honor is looking for a way to get what she wants and Tom needs all the help he can get. They decide to have a marriage of convenience and see what comes of it.
I mostly liked Honor, but I did wish she had a bit more of a spine. She runs the business side of the family winery and is very good at what she does. She is definitely a workaholic which doesn't give her much of a social life. While her work self is very confident, when it comes to her personal life she is pretty hopeless. She doesn't think she's very good looking, but doesn't even try to maximize what she has, considering many of her attempts as "slutty". Her work attitudes don't translate well in a social setting and she's considered intimidating. After her proposal to Brogan she considers herself utterly hopeless. The one thing that gave me hope for her was when Brogan broke the news of his engagement to her best friend and Honor let them have it. Unfortunately, she then backed down and went into hiding until her blind date with Tom.
I really liked the attraction she felt to him and how she realized that Brogan had never made her feel that way. After they got past that first disastrous date, she was impressed by how much he cared for Charlie. Besides her attraction to him, that care is what motivated her to help him out. She got really frustrated with his hot and cold attitude though. Just when things seemed to be going well between them he would suddenly pull away and be very distant with her. When things were good she could feel herself falling for him, but then would fear getting her heart broken.
Tom was a basically a nice guy who has had a really bad time of it. He had stayed in America when he fell in love with Charlie's mom and had come to love Charlie like his own son. Just before her death, Tom had sensed that things were not right with his relationship and discovered that she was cheating on him with Charlie's father. When she died he couldn't just abandon Charlie, even though his grandparents wouldn't let Charlie stay with him. Charlie didn't cope well with his mom's death and has turned into a really angry teenager with major attitude problems, but Tom won't give up on him. When he discovers that his current job won't be renewing his work visa, Tom is desperate to find a way to stay. Enter his aunt's attempt to set him up with Honor. Tom isn't very happy with the idea and starts drinking well before Honor shows up, and as a result is a complete jerk in the way he treats her. He does have the class to apologize later when they meet again. At that time he realizes he's attracted to her which could make their potential marriage a bit more bearable.
There were times that Tom was a real sweetheart to Honor. I loved the way he played up the loving fiancé, especially around Brogan and Dana. He was very protective of her in those cases. But Tom also had very high walls around his emotions. He refused to allow himself to get truly attached to her. Every time that his emotions started to get out of control he would pull back and become a real butthead. He was afraid of getting hurt again. Every time he loved someone he ended up getting hurt. First his mother walked out on him and his father, his love for Melissa was rejected when she carried on with her ex, even Charlie appeared to be rejecting him. There were times I really wondered if Tom was ever going to get his act together. There was a short period of time when things were looking up. He and Honor were getting to know each other better and their attraction had really taken off. Tom was even starting to believe that he and Honor could be happy together. Then he got kicked again and withdrew from Honor one more time, this time telling her she deserved much better than him. I almost wanted to agree because he was being such a jerk.
Charlie was one of my favorite characters. He was obviously hurting a lot. I could see through Tom's memories that Charlie is a good kid that just needs to know that someone really cares. It was obvious that his grandparents really didn't care, in fact Grandma was downright creepy. She was also emotionally abusive. I really liked the way that Honor treated him as a normal teen and that Charlie started to respond to her. Her family had a pretty good effect on him. He also finally started to respond to Tom and things were looking up until his loser father reappeared. I felt really bad for Charlie when he was caught up in that mess.
Brogan and Dana both really ticked me off. I never could see how Honor failed to realize that he was just using her. He was so darned selfish that he couldn't see what he was doing to her. Then to compare her to an old baseball glove, turn around and get engaged to her best friend a few weeks later and still expect to be friends? Then her so called "best friend" was just an all around bitch. Nothing ever seemed to be her fault, things were always blamed on other people. The scene in the bar where they told Honor about their engagement was a prime example. You could see by the description that Dana had purposely gone after Brogan and was just rubbing it in Honor's face. I was really rooting for Honor when she went after Dana. Then to have her pull the same thing as Brogan, trying to guilt Honor into being friends again. I thought she really got what she deserved at the end.