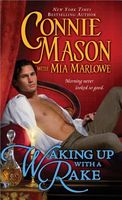 Series:
Regency Rakes
(Book 1)
The Fate of England's Monarchy Is In The Hands of Three Notorious Rakes.
To prevent three royal dukes from marrying their way onto the throne, heroic, selfless agents for the crown will be dispatched...to seduce the dukes' intended brides. These wickedly debauched rakes will rumple sheets and cause a scandal. But they just might fall into their own trap...
After he's blamed for a botched assignment during war, former cavalry officer Rhys Warrick turns his back on "honor." He spends his nights in brothels doing his best to live down to the expectations of his disapproving family. But one last mission could restore the reputation he's so thoroughly sullied. All he has to do is seduce and ruin Miss Olivia Symon and his military record will be cleared. For a man with Rhys's reputation, ravishing the delectably innocent miss should be easy. But Olivia's honesty and bold curiosity stir more than Rhys's desire. Suddenly the heart he thought he left on the battlefield is about to surrender...
This was a really fun book. Olivia is in the running to marry one of the royal dukes, even though she is a commoner. She's not thrilled with the idea but she doesn't really have a choice. Rhys has been sent to evaluate her suitability, but there is an underlying mission also. He is supposed to public seduce her and ensure that she does not become the duke's bride. He expects it to be accomplished easily, thereby receiving the information he needs to clear his name. He doesn't expect to actually like her and begin to regret what he is being forced to do.
There were a lot of sparks from the moment Rhys and Olivia met. She is innocent but not naive and is quite taken by his looks and his forthrightness. Rhys is equally attracted to her and expects that he will have little trouble accomplishing his mission. I loved the fact that he was completely honest with her about being a rake and warned her that she probably shouldn't trust him. Olivia is very intelligent and also independent so she likes to make up her own mind about things.
Rhys is pretty outrageous in the things he says to her, even tricking her into using his first name. He is patient in his attempts to get close to her and is therefore on hand to save her from an accident that turns out to be no accident. He begins to think that there is someone out there that wants her permanently removed from the competition and is determined to protect her. He wagers her into letting him stay in her room at night and starts his efforts to seduce her at the same time. Olivia turns the tables on him when she decides that she wants to know more about what goes on between a man and a woman before being stuck in a loveless marriage. These scenes are fantastic as it becomes obvious that Rhys has bitten off more than he expected. When Rhys accomplishes his mission without actually doing anything he ends up married to her. The scene with Rhys, her father and the absinthe was hilarious.
Olivia has admitted to herself that she has fallen in love with Rhys but doesn't know how he feels about her. As they spend more time together she is able to get him to tell her more about his life. Rhys isn't sure how she did it but he even told her about what happened in France and what haunts his dreams. He is surprised at how just telling her about it has relieved some of the guilt he feels. As they spend time together on their honeymoon in Scotland they learn more about each other and how to merge their lives. There are some truly spectacular confrontations in which Rhys usually ends up on the losing end. I also enjoyed the arrival scene and Olivia's reaction to the woman who embraces Rhys.
When another threat against Olivia shows up in Scotland, Rhys realizes that it was never about the possible marriage. He is determined to find out who is behind it and ensure her safety. To that end he takes Olivia to his father, who he hasn't seen in three years, knowing that he will keep her safe. He is also finally able to have the discussion with his father that was denied him back then and start to repair their relationship. That scene was very emotional as both admitted to their mistakes.
The final resolution to the mystery of the attacks on Olivia was very good. There was a hint of who was behind it earlier, but the twists of the background were very well done. The final confrontation was quite intense. You know it will end happily (it IS a romance) but getting there was quite nerve-wracking.
I enjoyed the epilogue and the glimpse into the happy future of Rhys and Olivia.