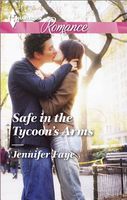 The man behind the headlines…
When billionaire Lucas Carrington returns to his New York mansion, he never expects to find beautiful stranger Kate Whitley making herself at home. Invited by his aunt to stay, he soon discovers she's a woman in need. She's raising funds for her sick daughter, so he agrees to let her stay -- temporarily!
Kate may not belong in Lucas's high-society world, but she sees there is more to this tycoon than the headlines suggest. Yet with so much at stake, can she trust herself and her heart with New York's most sought-after bachelor?
Sweet story of two people who have not had an easy life lately. Lucas comes home early from a business trip to find a strange woman living in his house. Kate is just as startled to find a strange man where none was expected. After straightening out what is going on, Lucas agrees to let Kate stay for awhile.
Kate is wary because she has learned not to depend on other people. From her father's desertion when she was a child to her ex's selfish ways dependence only brings her trouble. When Lucas offers her a deal she is cautious about accepting it. He'll let her stay at the house and use it to host her fundraiser if she'll take the lead on fixing it up. As they work together on the house she starts to see past the surface grumpiness to the heart that shines through.
Lucas has been neglecting the house, lost in the unhappy memories it contains. When he and his wife divorced she took their daughter and refuses to allow him contact. He doesn't want to put the child in the middle of a fight because he had been the victim of just such a battle when he was a kid. So he buries himself in work and ignores everything else.
In spite of his problems Lucas has a good heart and wants to help Kate. As the work continues and they spend more time together they both feel a strong attraction. They also discover that they have a lot in common and enjoy spending time together. I really enjoyed seeing the way that Lucas tries to lighten things up for Kate. He makes sure she eats and drags her out occasionally to give her a break. He's growing to care for her, but knowing her opinion of the way her father abandoned her, he has kept his problems with his own daughter secret. He wants to tell her but is afraid of what her reaction will be.
There is a strong attraction between them from the beginning that they try to ignore. The romance is a slower buildup as they get to know each other. Kate learns to let go of a little of the independence and how to accept help when it's offered. Lucas finds himself wanting to be a better man because of Kate's influence, even wanting to take another chance at getting access to his daughter.
There are a few twists and turns to their relationship, as they seem to move forward for awhile and then backward a little. It all gives them the opportunity to learn more about each other. I loved the ending.