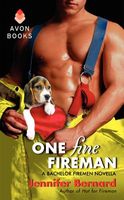 Series:
Bachelor Firemen
(Book .5)
Kirk, a.k.a. Thor, one of San Gabriel's infamous Bachelor Firemen, certainly lives up to his nickname. He's tall and handsome, with a chiseled body worthy of any Viking god. But he'd give it all up for one glance from her.
Sweet, shy Maribel has no idea that Kirk's been pining for her. There's nothing he'd like better than to sweep her off her feet and show her just how exquisite their love could be. But Kirk has a secret, and he won't let anyone get close, least of all the sexiest woman he's ever met.
Can a feisty little dog and an even feistier little boy help these star-crossed lovers find the passion they both so richly deserve?
Excellent setup for the Bachelor Firemen series. Maribel is a waitress at the diner where the firemen often stop for coffee. She is the single mother of a nine year old boy and has been in a long distance relationship with a celebrity photographer for six years. That doesn't stop her from noticing Kirk whenever he comes into the diner. She finds him incredibly sexy and also very sweet.
Kirk has had it bad for Maribel for years. The problem is that he gets so tongue tied around her that he hasn't been able to let her know he's interested. Besides, she engaged. Plus, he's recovering from a bout of skin cancer that could come back at any time. Because of it, he's planning to move to Alaska, where the climate would be safer for him. He doesn't want anyone worrying about him.
Maribel's son Pete hates her fiance. He can see that the man has no interest in anything but his own interests. He's a smart kid with a great imagination. When he finds an abandoned dog he befriends it, even though it means sneaking off against his mother's wishes. Taking care of the dog puts him in the path of Kirk, who befriends him. The two of them hit it off, which gets Kirk a chance to see Maribel away from the diner and his fellow firemen.
Suddenly Maribel is getting exposure to a whole different kind of man than her fiance. Kirk's kindness to her and connection to her son opens her eyes to just what a selfish jerk her fiance is. Maribel also feels things for Kirk that she never experienced with Duncan. Once she has ended her engagement the romance between her and Kirk really takes off, though she worries about it being too fast.
I loved the ending and seeing Maribel discover just how much Kirk cares for her and Pete. She sees the way he puts everyone else before his own needs which makes her care for him even more. She really stuns him with her demonstration of just how much she and Pete love him.
I loved the big part that the little dog played in the story. Pete's finding the dog gave him something to care for. He also brought Kirk and Maribel together as they tried to find a way to give Pete time with the pooch and yet keep him safe. Having the background of the dog slowly revealed made him just as real as the human characters. I loved the solution they came up with for the pup's future!