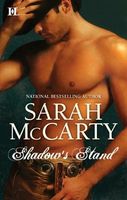 Series: Hell's Eight (Book 5)
Husband of convenience. Lover by choice.
Shadow Ochoa is lying low in the western Kansas Territory, waiting for his fellow Texas Rangers -- the Hell's Eight brotherhood -- to clear his name. That is, until he's unjustly strung up for horse thieving...and pretty Fei Yen intervenes. Invoking a seldom-used law, the exotic lady prospector claims Shadow as her husband and rides off with the bridegroom shackled to her buckboard.
Savvy, fearless Fei is single-mindedly devoted to her hidden claim and all it promises: wealth, security and freedom. A husband is just a necessary inconvenience and a name on paper to hold the claim she cannot.
Shadow isn't a man to take orders from anyone, especially from lovely Fei -- except that the daily friction between them ignites into nightly blazes of all-consuming passion. Soon Shadow is dreaming a little himself: of the life they could have if only Fei could see past the lure of independence. If only bounty hunters weren't closing in on him. If only he's left standing when the impending showdown has ended....
Good book. Fei Yen and Shadow were both intriguing characters. Fei is in a bit of a bind. Her father has lost it mentally, leaving her unprotected. He sold her cousin to an unscrupulous man. She needs to get enough gold out of her claim to buy her cousin back. The problem is that Chinese people cannot own a claim, so she needs a man to hold it for her. She finds just such a man in Shadow, who is about to be hanged for horse theft. Invoking an odd law, she claims him as her husband and takes him away with her.
The horses Shadow was stealing were his own that had been taken from him. He's also wanted for the murder of a soldier who had kidnapped his sister-in-law. He doesn't really feel like dying yet, so he takes Fei up on her offer. Things turn out to be a little more complicated than he expected when it comes to his new wife.
I really liked both Fei and Shadow. Fei is unusual for a woman of Chinese ancestry. Because she is half Chinese and half American, she is looked down on by both sides of her heritage. She has developed an unusual amount of independence because of it. I loved seeing the way she used the men's perception of her to save Shadow from his hanging, and then had the courage to stand up to him when telling him what she needed from him. There are also plenty of times when she isn't sitting around waiting for him to save her, she steps up and takes action herself. Of course, some of those times she gets into more trouble and he ends up saving her after all.
Shadow is one of those dark brooding kinds of guys that are all tough on the outside, but have a soft center that you have to work at to find. His life has not been an easy one as a half Mexican half Native man, but has gotten worse since he killed that army man at the end of the previous book. He is a very protective man and rather than bring his troubles to his brothers of Hell's Eight he has cut himself off from them. His current situation adds another person to protect. He is determined to protect Fei not just from outside forces but also from himself.
As the days go on and they work together to save Fei's cousin there is a growing passion between them. Fei knows that any future with her father's people will be bleak and she wants to experience everything she can with Shadow. I really liked seeing the way her complete honesty about her feelings is such a turn on for Shadow. She also sees past the hardened exterior to the man he keeps hidden from everyone. I loved seeing how some of the things she tells him about himself scare the crap out of him because she's right. Shadow is so determined to protect her and everyone else that he denies himself the connection to Fei and to his family that he needs. He refuses to believe that he is worth loving. There's a great scene at the very end where the other member's of Hell's Eight show him the errors of his thinking.
There's plenty of action going on as Shadow is rescued from hanging, Fei disregards Shadow's orders to stay put and goes to rescue her cousin on her own, that rescue gets complicated and Fei brings her expertise with explosives into use, Shadow does something stupid and gets himself nearly hanged again, Fei runs away from her family and ends up captured by a bad army officer, she uses explosives again to try to save herself, and Shadow and company save the day. I loved the interactions between Fei and Shadow as each one tries to make sure the other understands their point of view and frustration frequently ensues.
This is the first of this series I have read but I definitely want to read the others, past and future.