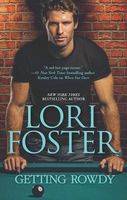 Series:
Love Undercover
(Book 3)
An alpha hero's attraction to the one woman he can't have could draw him into a killer's snare
Charismatic bar owner Rowdy Yates isn't the kind of man women say no to. So when he approaches waitress Avery Mullins, he fully expects to get her number. However, the elusive beauty has her reasons for keeping her distance -- including a past that might come back to haunt them both.
Avery spends her nights working for tips…and trying to forget the secret Rowdy is determined to unearth. But when history threatens to repeat itself, Avery grows to rely on Rowdy's protective presence. As the sparks between them ignite, she will be forced to choose between the security she's finally found…and the passion she's always wanted.
Fantastic book. We first met Rowdy in Book 1
Run the Risk
and he appeared again in
Bare It All
. He is the older brother of Pepper, who he spent his life protecting, until she married Logan Riske. He and Pepper had a rough childhood and he has never had a problem doing whatever he had to in order to keep her safe. His actions have gotten him into plenty of trouble in the past, but things are getting better. He has purchased a bar that he is running and mostly staying out of trouble. One of his best employees is Avery, a beautiful redhead that he wants to get a lot closer to. He's not used to women telling him no and that has him even more intrigued. When she starts receiving threats all his protective instincts come roaring to the surface.
I loved Rowdy and have from the beginning. His way of watching out for his sister, then Alice and now Avery shows that there is a really good heart under all those muscles and frowning looks. It isn't always obvious, especially with the way he goes through women. He is constantly fighting the demons of his past, and being with a woman is about the only thing that takes his mind off his troubles. He doesn't do relationships at all and makes sure that the women know it. He really wants Avery but she isn't letting him close. I loved the way he went all alpha protector the night he drove her home and saw where she lived. It got even better when he discovered she was being harassed. He was determined to protect her whether she wanted it or not. I loved seeing his confusion and frustration when she would stand up to him. He also found himself doing things with and for her that he had never done for anyone else and it really freaks him out. In spite of his extreme confidence in himself and his abilities he doesn't react well to a visit to her parents and what he thinks she is doing. It does serve as quite a catalyst to really push them together and things get hot really fast. I really enjoyed seeing Rowdy deal with things he has never experienced before. When she starts telling him she loves him he doesn't know how to deal with it, but realizes that he is starting to care for her.
Avery has been hiding out for a year, escaping from a situation that had become unbearable. She wants Rowdy but she has no intention of being just another in a long line of women. I really enjoyed seeing her hold him off for as long as she did. She is also very different than most of the women he goes after, being more restrained in her dress and actions. She's afraid when she starts getting strange phone calls, but she initially doesn't want to draw Rowdy into her problems. Once he makes it clear that he will help whether she wants it or not, she accepts his assistance. I really liked the way that she didn't take stupid chances and kept her head when bad things happened. I loved the scene behind the bar when Rowdy went after the drug guy. She really stood up to him about going to the hospital and then again when she insisted on taking care of him. I saw that as the real turning point in their relationship. It was great seeing her accept that she loved him, and also accept Rowdy for exactly who he was. She didn't try to change him or get him to admit feelings for her and has no plans to make a scene when the time comes Rowdy wants to end things. All she does is love him and tell him so frequently.
The action in the book is fantastic. Rowdy is the kind of guy who doesn't back down from a fight. From the time he takes her home the first time and takes out the drunks to the final confrontation with her stalker he lays it all on the line. I also enjoyed seeing him deal with both Logan and Reece. Because of his early life, and later problems with crooked cops, he has a problem with law enforcement and having his sister married to a cop still gives him a bit of trouble. I loved some of the interactions among the three of them as they tried to keep Rowdy from doing something stupid. As Rowdy learned more about the man threatening Avery he really wanted to do some serious harm. The final confrontation was really intense with a twist I was completely surprised by.
I also enjoyed the appearance of various characters. Seeing Logan, Pepper, Reece and Alice again was great, especially as they had important parts in the story and weren't just thrown in for the heck of it. The growing friendship between Pepper and Avery gave added insight into Rowdy and what has made him the man he is. The rescue of the little boy named Marcus from the druggie father who attacked Rowdy also gave us a chance to find out more about Rowdy's past, as did the way that he interacted with Marcus at Alice and Reece's house. I laughed when the female police lieutenant came into the bar and started putting the moves on Rowdy and the panicked phone call he made to Dash. I really can't wait to read his book. And finally, I loved the new guy, Cannon. He had some very interesting things to say and I really liked the things he did. I suspect that we will be seeing more of him.