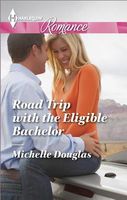 The beginning of a very long journey…together?
Quinn Laverty and her young sons are planning to start a new life on the other side of the country! With her family abandoning her, and her ex choosing wealth and privilege over fatherhood, her boys are all she's got.
But when an airline strike interferes with her plans, Quinn finds herself taking the car and up-and-coming (not to mention seriously gorgeous!) politician Aidan Fairhall to Sydney. And trapped together on a weeklong road trip, opposites Quinn and Aidan begin the most unexpected and life-changing journey of their lives….
Good book. Both Quinn and Aidan have baggage to overcome before they can find a happy future together. The journey to that future is an emotional and fun story to read.
Quinn is a single mother who has had to over come adversity while raising her sons. She has parents who disowned her and the boys father has abandoned them to go back to his old life. When an airline strike messes up her car rental plans, she joins forces with Aidan to drive across country.
Aidan is pursuing a political career he doesn't want as a way to help his mother deal with his brother's death. The airline strike has messed up his travel plans and he has to travel with Quinn and her sons. They are like nothing he has ever experienced before.
When he starts out the journey with a bad attitude, Quinn calls him on it and encourages him to embrace the chance to get away. It's not long before she has him having more fun than he's had in a long time. He's also experiencing an attraction to Quinn that isn't going away. Pretty soon he's fallen in love with all three of them. I loved seeing the fun he started to have. But he's not getting anywhere with Quinn. He's noticed she seems to have some insecurity dealing with the differences in their lives, but he can't seem to make her see that he doesn't see things the same way.
Quinn fears being abandoned by Aidan the same way as the others did. She can't bring herself to trust that his feelings won't change. Her feelings are only reinforced by the appearance of Aidan's mother who is very nasty to her. I did like seeing Quinn stand up to her on Aidan's behalf. There's another great scene later where Quinn and Aidan stand up to both his mother and her parents.
Aidan finally has the courage to tell Quinn how he feels, but can't get her to see that they can have a good life together. I loved his patience and the way he tried to counter all her fears. I really enjoyed the ending, as Quinn finally saw what she had been doing to herself all these years. Would have liked an epilogue from a couple years down the road.