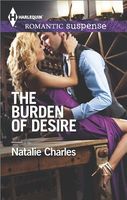 On the eve of trial, prosecutor Sally Dawson has all the evidence she needs to convict a man of killing his wife--until the "victim" reappears. Now, alone and pregnant, to save her career she must trust the very man who broke her heart--her sworn enemy, Ben McNamara.
The case confounds Ben, a former Marine JAG, but not the attraction budding between him and Sally. Their mutual desire never died. Can Ben prove to her that he's a changed man? He may never get the chance, because the closer Sally gets to the surprising truth, the closer she gets to a desperate killer....
Overall a good book. Sally is about to begin one of the biggest trials of her career. She has been putting a lot of hours into her work on it. A few days before the trial is due to start, she is assigned a "helper" by her boss. Sally is a loner and doesn't want anyone's interference in her case, especially that of Ben, the new guy in the office. She and Ben knew each other in law school, where they had a brief relationship before he walked away breaking her heart.
Ben had had a good job as a corporate lawyer, then joined the Marines where he was a JAG for a few years. He's never forgotten Sally, or what he did to her back in school. He wants to show her that he's changed, but having to review her case isn't making it easy.
Sally's professional life has been going great until the murder victim in her big case shows up alive. Now she has to trust Ben to review her actions to make sure she didn't miss something important. After talking with the "victim" both Sally and Ben realize that there is something fishy going on and it's up to them to figure out what it is. I enjoyed seeing their work as they unveil each bit of evidence and put together the facts of what happened. There were some very interesting twists as that evidence was uncovered.
The relationship between Sally and Ben was complicated. Their college history had left both of them with scars. Sally had really cared for Ben in spite of their differing backgrounds. When she confessed her feelings Ben panicked and broke things off in a very cruel manner. Since then Sally hasn't had any successful relationships and in order to have the family she longs for has become pregnant via a sperm donor. Ben has issues of guilt because of the death of his father. To deal with those feelings he used to drink and indulge in other forms of wild behavior. He also felt undeserving of love which was why he had fled from Sally all those years ago. His guilty feelings were added to because of things that happened in another relationship and his military career. Now that they are forced to work together, both discover that the attraction they felt before is still just as strong. Sally still has a hard time forgiving him for his actions ten years ago and though there are a few instances of softening, still treats him like her enemy through a good share of the book. Meanwhile, Ben is still looking a Sally as if she's a blond airhead that he can't figure out how she made it through law school, even though he reminds himself of how good she was even then. I liked seeing her support Ben by going to his friend's wedding with him and she did finally start to see him as the man he is now, not the total jerk he used to be, but is still hurt when he reverts to jerkdom at times. Ben admits to himself that he was a total ass back then and owes her a huge apology, but I never saw him give her one. He did redeem himself somewhat at the end. I would have liked to see more actual talking about their pasts between them.
My only other issue with the book is a frequent complaint I have with the Harlequin line. A big deal was made of Ben's time in the Marine Corps, but he was always spoken of as being a marine, not a Marine. Marine is ALWAYS capitalized, and it's hard to tell anymore whether it's the author who doesn't know any better, or (as is more frequently the case) the publisher/editor who doesn't bother to check on the proper way of doing things. Either way, it is a big issue for me as it pulls me out of the story every time I see it.