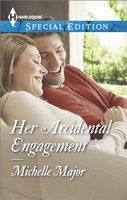 Series:
Brevia, North Carolina
(Book 2)
When the local police chief comes to a single mom's rescue -- with a pretend marriage proposal! -- fake sparks become all too real
Julia Morgan is in the midst of a nasty custody battle, trying to prove she provides a stable environment as a single mother for her son, Charlie. When the opposing lawyer starts to play dirty, she has a few tricks up her own sleeve…one that involves the hunky, most eligible bachelor in town.
As Brevia's police chief, Sam Callahan is used to saving others, so when he sees a cute, sassy blonde in need of help, he gladly plays hero. Not only will pretending to be her fiancé help Julia's case, it will also get his father off his back about finding "the one." But what happens when pretend doesn't seem so -- well -- pretend anymore?
Excellent book, several tissues required during my reading of it. Julia is desperately trying to retain custody of her son. His grandparents are trying to take him away and doing everything in their power to succeed. When a discussion at a local restaurant looks like it's getting out of hand, Sam intervenes, claiming Julia is engaged to him. While that solves the immediate crisis, it opens up a whole new set of problems.
I felt so bad for Julia. She is fighting battles against incredible odds. Her son Charlie is her whole world and she is doing everything she can to give him a good life. She came back to her hometown just before he was born, not knowing what to expect. She hadn't been a very nice person in high school and has quite a reputation to live down. What nobody knows is that her attitude had been a way to hide the fact that she has a severe learning disability that made school incredibly difficult for her. Even now her self esteem is nonexistent and she considers herself to be stupid. She is running the local hair salon and hoping to buy it, even though doing the paperwork is incredibly difficult.
Sam is the local police chief. He has his own set of issues. His father was a cop in Boston and when his wife died he shut down emotionally. He also passed that attitude on to his sons. Sam has the reputation of dating a woman a few times and moving on. He never lets anyone get close. Sam's dad has come to visit and has seen the error of his ways regarding emotions and is suddenly pushing Sam to talk about his feelings and not close himself off from love. When Sam comes to Julia's rescue he sees the chance to help her and himself at the same time.
What neither expects is for the fake engagement to start to feel real. Julia doesn't want to depend on Sam as she has learned that people let her down. But she can't resist him when he puts all his effort into making it look real. He really seems to connect with Charlie and seeing the two together makes her dream of what it would be like to have him there all the time. There is also the effort he puts into making her see that she isn't stupid, and that letting people know about her difficulties will make it easier for them to understand what she's going through. She tries to fight her feelings for him, knowing that the relationship isn't supposed to last, but ends up falling for him completely.
I loved Julia's battle to overcome her past and make a better reputation for herself. There are several great scenes with people from her past. I loved seeing the way she dealt with each person. I really liked seeing the things she was doing for the people in her town and the effect it has on the way she is seen by others. There's a very moving part with one of her salon customers near the end as the woman reaches out with the kind of helping hand that Julia really needs at that time. I also liked the realistic look at the problems her disability has caused her. There's no quick and easy solution, and what is shown is real.
Sam has tried to keep his distance also, but he can't stay away from them. He's afraid to let anyone into his heart because he remembers what happened when his mother died. He doesn't want to go through that kind of pain. I liked the way he stepped in to help Julia, and loved seeing him try to show her that she isn't stupid. Sam fights the feelings that he's starting to develop for Julia and Charlie, certain that he is not what they need in his life. He tries to help Julia with her custody battle but falls down on the job when he fails to make the hearing. Something else that he has done also has a direct impact on the hearing. It takes awhile but with the help of his father he realizes just how much he needs Julia and Charlie and that he wants to fight for them.
I was sure that there were going to be some real fireworks when it came down to resolving the custody issue. It really wasn't looking good for Julia for awhile. I loved seeing the way she stood up to them at the end, and how the information she had worked for her. It was great to see Sam and how he really came through for her - such a romantic ending.