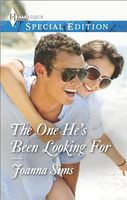 He'd finally discovered his muse…just as he was losing his sight.
World-famous photographer Ian Sterling had been searching for the perfect woman. And when he finally spotted Jordan Brand he simply had to have her. Her photos would mark his final work. His life as he knew it was slipping through his fingers. The man who bestowed beauty on the world was losing his sight.
For rebellious artist Jordan, becoming someone's inspiration should have been laughable. Yet being with Ian made her ridiculously happy. Knowing of the difficult road he was traveling made her love him even more. But Ian refused to pass his disorder along to children -- leaving Jordan to choose between the man who held her heart and the family she'd always wanted….
This was an incredibly emotional book. Ian is rushing to find the perfect subject for the photography book he is working on. He has a limited amount of time to do it because he is losing his sight. When he spotted Jordan he knew he had found the one he needed - he just had to convince her. Jordan wasn't so sure about him when he first approached her. She is the typical starving artist, barely making ends meet. But he offers her a ridiculous amount of money so she goes along with it. There's also the way she feels when she's with him.

The trip to Curaçao for the jewelry shoot was fantastic. Jordan and Ian began the process of getting to know each other. Jordan had a wonderful sensitivity to Ian's light issues with his eyes and did everything she could to make things better for him. Being around her seems to dissolve Ian's stress and he's happier with her than he's been in a long time. She's terribly nervous about doing the modeling since she has never done it before and Ian sees that and helps her through it. I loved their beach walk and how it showed the rapid progression of their relationship. One of the things I loved about Ian was the way he told her about his eyes before they got intimate.

When they got back to San Diego their relationship continued to deepen. It really looked like things were going to work out for them until Ian seemed to start withdrawing emotionally. Jordan didn't understand why he appeared to be pulling away. There was also the issue of children standing between them as Ian was unwilling to compromise. The stress was beginning to get to Jordan so badly that she couldn't focus on her painting. The emotions of both of them as it looked like love wasn't going to be enough were truly heartbreaking.

I loved seeing Ian's "go big" moment as he had finally made the changes he needed to in order to give Jordan and himself the future they wanted. His nervousness was adorable and the romantic Valentine's night that he planned was so romantic.

A real plus in the book was learning more about Ian's disease in a way that fit into the book without being beaten over the head by it.