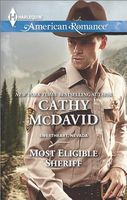 Series:
Sweetheart Nevada
(Book 3)
A Reason To Stay
Las Vegas casino manager Ruby McPhee needs to lay low while the police deal with a stalker at work. So she's trading in her high heels for cowboy boots and assuming her twin sister's identity at the Gold Nugget Ranch. Ruby only plans on staying in Sweetheart, Nevada, until the threat back home has passed. But then she discovers a detail her sister forgot to mention -- the handsome sheriff she's dating.
It only takes a single kiss for Cliff Dempsey to realize the woman in his arms is someone entirely different…and completely irresistible. To protect Ruby's secret, Cliff maintains her ruse, but soon the lines between duty and desire begin to blur. Ruby and Cliff know they have a once-in-a-lifetime connection, but will they have a chance to let their love grow?
Good book. Ruby has come to Sweetheart to hide from her stalker. She'd rather lie low, but sister Scarlett wants to take off to visit an old boyfriend. So Ruby pretends to be her sister and fill in for her at work. Scarlett forgot to tell Ruby that she's dating the local sheriff.
Cliff realizes immediately that Ruby is not Scarlett. Her kiss blows him away, making him feel things he never felt for Scarlett. He's wary of Ruby until he confirms her story and agrees to go along with her ruse and protect her.
Cliff tries to keep things professional. Earlier in his career in Reno he had fallen for a witness who used him to help the criminal who was being investigated. This ruined the investigation and damaged Cliff's reputation so he doesn't want to take that chance again. But his feelings for Ruby are growing quickly and he's having trouble staying away.
Meanwhile, Ruby is falling hard for Cliff. His protectiveness makes her feel safe and his care for her is something she's never experienced. Ruby worries that by coming to Sweetheart she's put the people she's come to care about in danger. Just as she and Cliff admit their connection their whole relationship is endangered by her stalker.
I really liked both Ruby and Cliff. Ruby is a nice person caught in a bad situation. She takes the opportunity to escape Las Vegas, but she does worry about what could happen. When things go bad at the end she is devastated by Cliff's actions and the attitudes of some of the townspeople. I liked the way that she went out of her way to try to repair some of the damage that had occurred. Cliff was a man caught in a dilemma. He really liked Ruby and the more time he spent with her the more he fell for her. But he was so worried about his reputation that he nearly threw away the best thing that ever happened to him. I wanted to kick him, the mayor, and a bunch of the other people for the way they blamed Ruby for everything. I really enjoyed the ending and seeing how the townspeople tried to make things right.