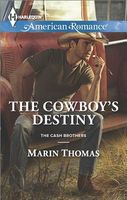 Series:
Cash Brothers
(Book 4)
IT WAS FATE…
Destiny Saunders is tough, but being left at the altar makes even the toughest gals do some strange things. When she stumbles upon a stranded cowboy -- Buck Owens Cash, the best thing to arrive in Lizard Gulch, Arizona, in a long time -- she arranges things so they can have a little fun before he rides off into the sunset. The sexy, shapely auto mechanic is just one surprise after another, so Buck plays along to see what will happen.
What happens is love…the kind that makes a man want to prove himself. Then Buck discovers Destiny's secret -- one that will tie her to another man for the rest of her life. Betrayed, he returns to the rodeo circuit determined to forget Destiny…but fate has other plans!
Another Cash brother bites the dust! This is another fantastic entry into the the saga of the Cash Brothers. Buck had done what his brother Will (
Her Secret Cowboy
) had said to do - left town. After keeping the existence of Will's son a secret, Buck's guilty feelings have kept him on the road. Then his truck breaks down and he's rescued by a woman wearing a bridal veil and riding a Harley. After being left at the altar, Destiny is feeling a little reckless, so she tells Buck that it will be a few days until his truck is repaired, giving her a chance to have a bit of fun with him before he moves on.
I loved both Buck and Destiny. Buck had done what he thought was right at the time, but it came back to bite him and put him at odds with his brother. He's been feeling a bit restless anyway, working as a mechanic for someone else, so he decides to take the time to try to decide what he wants to do with his life. Destiny is different than any other woman he'd ever been with and she soon has him tied up in knots. I loved how he knew she was trying to keep him in town but played along. He was quite happy to spend more time with her. I loved seeing him get to know all the different facets of her personality and fall for each one of them. He also saw her looking out for all the people of the town and wanted to be the one to look out for her. It was great to see him recognize his love fairly early, then have to deal with his feelings after he discovered her secret. I loved the part his brothers played in helping him. One of the things I love most about Buck and the whole Cash family is how important family is to them. I really liked the fact that Buck recognized that the people of Lizard Gulch were Destiny's family and how he tried to help them.
Destiny had spent her life with a mother who was always on the move and as a result has been looking for a place to put down some roots of her own. Lizard Gulch is a tiny town full of old people but she has come to love them like family. She wasn't heartbroken when her groom stood her up, and when she came upon Buck on the side of the road she was immediately attracted to him. As the town mechanic she was the one to look at his truck and she took the opportunity to stretch the truth about the repairs to keep him around for a few days. She felt a little guilty about not telling him her secret, but since he wouldn't be staying she figured it didn't really matter. She didn't expect to start to have feelings for him almost immediately, and then for him to find a reason to stick around a little longer. She starts dreaming about having a future with Buck, but feels that her background makes it impossible for her to expect anything permanent with him. She only seems to see the downside of her life and not the strong, independent and intelligent person she has become. I loved seeing one of her old timers talk some sense into her. I loved the scene at Buck's rodeo at the end.
The people of Lizard Gulch were wonderful and added such a wonderful dimension to the story. Each one had a unique personality and place. I really enjoyed the secondary story of the developer trying to take over the town and how the people were fighting back. There were quite a few places that had me laughing and wondering what was going to happen next. I loved the way that Destiny's other job as mayor showed her people skills and how quick thinking she was. It also showed yet another aspect of how much love she had to give. The love that the people had for her was obvious too, and seeing them all chase Buck down at the end was hilarious. I can't wait for the next book!