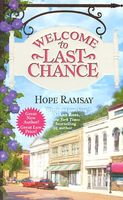 Series:
Last Chance
(Book 1)
WELCOME TO LAST CHANCE, SOUTH CAROLINA
Dear Reader,
Yes, our town is way off the beaten path, but strange, wonderful miracles happen a lot around here.
I've owned the Cut 'n' Curl beauty shop for years, and I've seen folks come for a visit, then stay for a lifetime. Take Jane-that pretty firecracker of a girl who just arrived in town. I would swear she's running from something. She came with only five dollars in her pocket but she's worked real hard to make a fresh start. She's turned my son Clay's life upside down without even realizing it.
And thank goodness for that! Ever since Clay left his country western band, he's played everything too safe. He needs to take a chance on Jane. Besides, the more he tries to keep his distance, the more he'll realize that he and Jane are singing the same tune.
But I should quit ramblin' and go check on Millie's permanent wave. Next time you're in Last Chance, be sure to swing by. We've got hot rollers, free coffee, and the best gossip in town.
See you real soon,
Ruby Rhodes
This was a fun book to read. Right at the beginning it seems like both Jane and Clay are hot messes. Jane has come to Last Chance to make a new start to her life after some bad choices. Clay is the first person she meets and proceeds to perhaps continue those bad choices. Clay came back to his hometown after things didn't go so well in Nashville and now feels like he's stuck in neutral.
Jane was screwed over by her latest boyfriend who ended up stealing all her money instead of helping her make it big in Nashville. Now she's arrived in Last Chance with five dollars to her name and a determination to turn her life around. She has become a believer in positive thinking and hopes that it will be enough to see her through. She goes to the local bar in hopes that some nice guy will buy her a meal and offer her a sofa to sleep on. The first one she sees is Clay who is playing his fiddle with the band. He wears his hair long, in a pony tail, and is very good looking. She thinks he looks like a bad boy and has resolved to stay away from them. But beggars can't be choosers and she ends up doing more than sleeping on his sofa, which they both regret in the morning. Through a strange series of events, Jane is offered a job by Clay's mom, cutting hair and doing nails in her salon, and watching her grandchildren in the afternoons. It comes with a rent free apartment, so things are looking up. She still has an inconvenient attraction to Clay going on, but she tries to resist that. Jane also has some trouble in her past that she has been trying to outrun for seven years. Some of that trouble is about to catch up with her in both a funny and heartbreaking way. I really liked Jane's determination to make her life better. She also wants to do it on her own, not depend on a white knight to rescue her. She's falling for Clay but he can't seem to make up his mind what he wants. When it comes to things going her way, Jane can't seem to catch a break, to the point where she's even been accused of murdering herself. While she is pretty down on herself for most of the book, by the end she has begun to see that things aren't so bad after all. I really loved the way she took charge at the end and saved Haley and herself.
Clay is basically a nice guy. He doesn't look like it, but he is. He is a good son to his momma, a good brother and uncle, a great friend to his handicapped buddy and even plays organ in church on Sundays. He left Last Chance after high school with his girlfriend, where they went to Nashville. He became a pretty good songwriter and fiddle player and had a band. His girlfriend left him for a rich record producer, breaking his heart. When he finally moved on from that and found a new love, she left him for the lead singer in the band. All the women seem to find him a better friend than lover. So he quits the band and goes home to Last Chance. He's just going from day to day there, feeling like there's something missing but not really doing anything about it, until Jane walks into the bar. He falls into instant lust with her which he regrets in the morning. All he really wants at that point is to get her on the road out of town, but the fates intervene there. She doesn't want to go and when his mom offers her a job she stays. Clay has decided it's past time for him to settle down, but Jane is certainly not the type of woman he's looking for. The local matchmaker tells him that his soulmate will arrive in town on the 9:30 bus - the same one Jane arrived on. Over the next couple nights, the two women from his past show up on that same bus and he's more confused than ever. What's really interesting is that Clay can't seem to stay away from Jane, though he really started to bug me at times. First he'd be really supportive of her, then he'd believe every bad thing he was told, then back to support. I was happy to see him get it together at the end. There are also times when I found him to be a little over emotional and wanted to smack him and tell him to man up. A little bit went a long way.
Being a small southern town, Last Chance has its share of truly quirky characters. There's Ruby, mom to all the Rhodes and owner of the salon and gossip headquarters. She is a true steel magnolia, running her family with mostly sweetness with the occasional application of a baseball bat. The local church ladies who have their fingers in everything and have no trouble letting people know when they've slipped off the straight and narrow path. The police chief, who is this book is a humorless pain with a stick up his butt. He's borderline abusive to Jane and refuses to believe her when she tells him the truth about who she is. I was glad to see him have to admit he was wrong. I loved Clay's friend Ray and had fun seeing him try to help Clay pick a wife. The arrivals of Clay's two exes added a bit of extra stress to Clay as he tried to figure out what to do about Jane. Young Haley and her "Sorrowful Angel" is a regular in several of the books. And the zaniest "character" of all is the Golfing for God mini golf course and its huge part in the conclusion of the book.