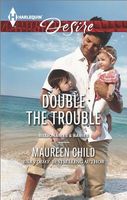 Series:
Kings of California
(Book 15)
Billionaires and Babies
(Book 43)
When Colton King ended his impetuous marriage to Penny Oaks after just twenty-four hours, it was out of sight, out of mind. But now, more than a year later, Colton discovers Penny's huge secret -- actually two little secrets: a baby boy and a baby girl.
Colton's only option is to lay claim to his twins. But soon he finds himself laying claim to Penny all over again. Now they have to ask themselves: Was their whirlwind marriage meant to last a lifetime?
Another fantastic book from Maureen Child. I loved the beginning as Colton King is punched by Penny's brother, just before he finds out that Penny has two children that are also his. Colt is stunned and furious that she didn't tell him. To a King there is nothing more important than family so he heads off to confront her about it. Penny has plenty to say about her reasons and she isn't going to apologize for it either. He wants to be involved but he has reasons he won't stay. Penny wants him to stay but has her own reasons for not depending on him.
Colton and Penny had met in Las Vegas and had a passionate week together. They got married the last night they were there, but the next morning Volt left, telling her it was a mistake "I don't want a wife. I don't want kids. My lawyer will take care of the divorce." Then he walked away and didn't look back. So Penny took him at his word and never contacted him. She's furious when he shows up and starts taking over. Even though she struggles to make ends meet, she knows she will do anything to make sure her children are safe and happy.
Penny doesn't want to depend on him. She is fiercely independent because she knows what it's like to depend on someone and then have them disappear. Colt has made no secret of the fact that he won't stay and she doesn't want to put herself and the twins through that emotional pain. But she also can't deny him the chance to get to know his kids so she lets him stay. I loved seeing him taking over everything as Penny recovers from her surgery. There's a great quote where he's talking to his brother about what he's been doing. "Never again will I say the phrase 'just a housewife.' How the hell do women do it? I've been here for two days and I'm beat. Cooking, cleaning, taking care of two babies... Women are made of way tougher stuff than us, Con. Trust me."
Colt finds himself getting more and more attached and it scares him to death. He feels guilty for something that happened ten years earlier, when he believes he let down someone who was depending on him. That ended tragically and he's been running from commitment ever since. Besides his love for the twins, he realizes that he has never stopped loving Penny. She has also never stopped loving him and though she knows he will leave, decides to take things day by day and enjoy what time they have together. The heat between them is intense and while both want to continue neither can easily let go of their fears.
When Penny confronts him about his upcoming departure, he finally tells her about his past. He is stunned by her reaction and the things she tells him. I loved the way she tried to get through to him and her actions when she couldn't. As seems typical of the King men it seems to take awhile for things to penetrate their hard heads, but when they do the results are magnificent.