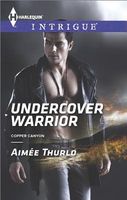 Series:
Copper Canyon
(Book 5)
Erin Barrett was the sole survivor of an armed assault on her company. Her saving grace? Undercover agent Kyle Goodluck, who'd grown from troubled youth to total warrior. Though he agreed to protect Erin, he still had unanswered questions. Starting with how much she could be trusted. But only Erin knew what these terrorists wanted -- and were willing to kill for. Kyle just had to gauge how forthcoming she was going to be about it. Standing their ground as New Mexico heated up with cross fire, Kyle wouldn't settle for anything less than absolute victory. And with Erin as his spirit guide, he wouldn't have to settle for anything anymore….
Very good story, with action that grabbed me from the beginning. Kyle had been assigned to discover what sort of trouble Erin's boss had gotten himself into. He arrived in time to save Erin but not her boss. He took her under his protection, not sure if she was innocent or part of the plot. They have to find a way to work together to stop the terrorists.
I liked Kyle a lot. He overcame a rough childhood, thanks to the foster father who took him in and the five others who became his brothers. His current investigation has brought him to his hometown, just in time to save Erin's life. He is investigating her boss to determine if he has ties to terrorists, and when he rescues her he is cautious about trusting her. It doesn't take long for his instincts to tell him that she is innocent. He is also attracted to her in a way that he's never experienced before, and discovers that his restlessness finds peace when he is with her. Kyle has used his job as a way to keep anyone from getting close, protecting himself from the pain of loss.
Erin is an intelligent and independent woman. I really liked the way that she kept her head during the attack even though she was afraid. She also didn't back down from asserting her innocence. She also insisted on being included as they continued the investigation. She is also attracted to Kyle but has no idea how they could have a future together. His job keeps him on the move and her dream is to own some land and become a chile farmer, putting down roots. Her heart doesn't care about the differences and she soon realizes that Kyle brings a sense of balance to her life.
The mystery that brings Kyle and Erin together was very well done. There was plenty of action as they do their best to stay out of the bad guys' hands, while they try to find out what they are looking for. It was great to see how each of them brought their own strengths to the investigation. The ending was pretty intense as Kyle and Erin had to do things just right to make sure the terrorists were stopped. I loved seeing Kyle's brothers from the previous books and how they were such a big part of helping him solve this case. The last chapter was great as the family gathered and Kyle reached for the life he wanted.

Another thing I have enjoyed about this series is the information about the Navajo and their beliefs that are included throughout the books. It is great to learn about them in such a fun way.