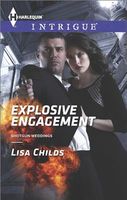 Series:
Shotgun Weddings
(Book 2)
GETTING MARRIED MAY BE MORE DIFFICULT THAN COMPLETING HIS MISSION.
Nothing has fazed Logan Payne in his entire career as a bodyguard. That is, until he's tasked with protecting his biggest enemy. Stacy Kozminski isn't too thrilled about having to work with Logan either, but when attempts are made on her life, she knows he is her only hope if she wants to survive.
Soon, a target is placed on both their backs, and they have no choice but to stage an engagement to protect one another. Logan won't let Stacy out of his sight. But is it because he doesn't want to fail his assignment…or because he's come to care for the gutsy and gorgeous woman -- the only woman who's ever gone toe-to-toe with him?
This book picks up where Book One (
Groom Under Fire
) left off. Cooper and Tanya have just gotten married when shots are fired at Logan. This is when they realize that some of the attacks from earlier have actually been aimed at Logan. He is sure he knows who is behind them, and tears off to confront Stacy, daughter of the man who went to prison for killing his father. He finds her getting ready for her father's funeral and accuses her of shooting at him or having her brothers do so, because he worked hard to make sure her father never got out on parole. He has to rethink his position a bit when someone shoots at them both at the cemetery. Logan's mother suggests that they become engaged as a way to make her family give up what may be their attempts at revenge.
It's very hard to get anyone to believe their sudden engagement. Logan and Stacy have spent the last fifteen years as enemies, refusing to believe any good of the other one. But all that passionate hate suddenly turns to another kind of passion as they are forced into each other's company. Logan can't understand why he's so attracted to a woman he can't bring himself to trust. As they get closer to discovering who is behind the attacks, he starts to realize that he's actually beginning to care for her. I loved seeing the way that she constantly stands up to him, refusing to accept his dictates. Stacy also has trouble believing that she can be so attracted to someone who is too pigheaded to listen to another point of view. She's much quicker to realize that her emotions are getting involved, though it isn't any more welcome to her than it is to him. She does know that she is safer with him than with anyone else, though she begins to worry that protecting her will cost him his life. Each time they are attacked, their feelings get stronger, until the last attack that shows them just how much they really care.
As in the first book, the attacks are nearly nonstop. Logan first suspects that Stacy and her family are behind them, but when she becomes a target also he has to consider other possibilities. He has spent so long convinced that her father killed his, that it takes him awhile to begin to accept her assertion that he couldn't have done it. With each attack it seems like there is another possible suspect. Would Stacy's brothers risk her life in order to get revenge on Logan? What about her uncle, who is also a jewel thief, but has never been caught? Would Logan's brother Parker try to take his own revenge on Stacy's family? What about Logan's employee Candace, who is obviously in love with Logan and not at all happy about his engagement to Stacy? And finally, what evidence did Logan's father's partner suppress and why? I was pretty sure I knew who actually killed Logan's father, but the journey to the answer had quite a few twists and turns. And as with the first book, the end of this one leads into the next.