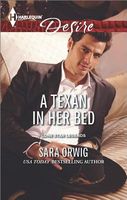 Series:
Lone Star Legends
(Book 2)
All Wyatt Milan wants is a quiet life. That's why the billionaire rancher became sheriff of the sleepy town of Verity, Texas. But Wyatt's tranquility is disrupted when charismatic TV host Destiny Jones blows into town, determined to solve a murder mystery tied to a long-standing family feud.
Destiny's questions threaten to stir up the old Milan-Calhoun dispute -- along with the hottest desire Wyatt has ever felt. This woman has turned his town, and his life, upside down. Suddenly Wyatt's got a brand-new feud on his hands -- one a lot closer to his heart!
I liked the premise of the story - hot shot tv personality comes to town, determined to solve the century old murder mystery and falls for one of the descendants of the victims who isn't so thrilled about having the feud stirred up. There was the potential for some good conflict to go along with the passion but it never happened.
Wyatt likes the peace and quiet of his town. He answered the call when the people of Verity asked him to be sheriff, because they trust him to know what is right to do whenever trouble happens. When Verity comes to town, he's not at all happy to have someone stirring up memories of the feud now that things are starting to calm down. He gets his first inkling of trouble when he finds her limo illegally parked, and then hears about the chaos that's already beginning. He gives some orders regarding the limo, has his mind set on making sure Verity knows there's no story to pursue, and then goes totally brain dead as soon as he sees her. All he can see is how beautiful she is and that he's attracted to her. Instead of really trying to convince her to give up, he asks her to dinner instead, and from there it's just a short hop into bed.
Destiny is beautiful and determined to find out more about the feud and what happened. She is accustomed to getting what she wants and has no trouble using her beauty and charm to do it. While I like a determined heroine, this seemed more like manipulation. She's also got a personal stake in the story because her grandmother is a Calhoun. She listens to Wyatt's arguments, all the while thinking about how hot he is, and that maybe she can seduce him into changing his opinion. By the time dinner and "afters" are through, she knows that won't happen, but the sex has been great.
Destiny continues her efforts, pretty much ignoring everything Wyatt asks about not stirring things up. He has real fears about what could happen during her interviews with various members of the families. Thankfully his brother Tony does as Wyatt asked and kept calm when his nemesis Lindsay Calhoun was being interviewed, preventing some of the trouble that could have happened. What bothered me most about Wyatt was that he seemed to have absolutely no backbone when it came to dealing with Destiny. He would make a request, she'd ignore it and he'd just shake his head and laugh.
As far as their relationship went, both had issues to deal with. Destiny has never been in love and is determined that she won't fall for Wyatt. After all, she's big city and he's small town. She lives all the way in Chicago, and he prefers Verity. But all that hot sex is great, and she doesn't really want to leave. She thinks maybe she might really be falling in love with him, but he guards his emotions and she doesn't want to love someone who won't love her back. Wyatt had been in love years ago and devastated when his fiancee broke things off. He doesn't want to risk feeling like that again, so he doesn't allow his emotions to get involved with any woman. He has to admit that Destiny has gotten to him far more than anyone else, but he refuses to believe that he's in love with her. After she leaves to return to Chicago, he finally realizes what she means to him.
I had a hard time buying that they had fallen in love with each other at this point. Whenever they were together, they were in bed. There was little talking done and I really didn't get the feeling that they had gotten to know much about each other. The most talking they did was after they had parted and talked on the phone every night. It wasn't until that point that I felt a real connection between them. Even then, Wyatt is still sure that there's no way for them to be together. Destiny is the one who takes the first steps.
I did enjoy the resolution of the mystery. I thought it was very neatly done. I liked seeing the families get together and how the younger generation is settling things.