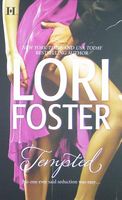 Series:
Sawyers Family
(Books 1 - 3 )
LITTLE MISS INNOCENT?
For Dr. Daniel Sawyer, sex therapist Lace McGee was a puzzle. While she kept putting all sorts of inappropriate ideas into his sister's head, Lace was even better at putting all kinds of naughty thoughts into Daniel's head. But just how down 'n dirty is Lace really?
Fun book. Daniel is the oldest of the family and the one who feels responsible for his younger brother and sister. He took over as a parent figure when his mother died and his father fell apart. It made him reluctant to fall in love because he didn't want to fall apart like that if something happened. He is a respected doctor and known for being very serious. A couple years earlier his sister became friends with Lace, a well known sex therapist and radio show personality. He doesn't approve of the changes he has seen in his sister since then and blames it all on Lace. Every time they are together he can't help but make his disapproval obvious. But he also can't get her out of his mind. When she ends up in his emergency room, he takes it upon himself to look after her for the next few days during her recovery, and suddenly things get way hotter between them.
Lace is very good at what she does and enjoys helping people get in touch with their feelings. She doesn't know why, but she really enjoys pushing Daniel's buttons when it comes to anything sex related. When he takes it upon himself to care for her after she's hurt, all that time together has her hormones going wild, She wants him to lighten up and give in to the heat that's between them. But she's got a secret that's going to blow Daniel's preconceived ideas to smithereens when he finds out what it is. Lace doesn't believe in love because she's seen her mother chasing that emotion all her life.
I loved the banter between Lace and Daniel as the two of them enjoy poking at each other. The attraction between them is obvious to Daniel's family, even though it takes awhile for Daniel and Lace to admit it. Once they give in things get even more interesting as they have to overcome their own issues before they can be happy together. I loved Daniel's commitment to his family, even though he was a bit overprotective. Lace's need for Daniel's respect for her job was a big part of the issues between them. I enjoyed the ending and look forward to seeing how their relationship progresses in his siblings' stories.
ANNIE, GET YOUR GUY
No one likes being treated like a kid sister -- especially by a guy who could curl a girl's hair faster than hot rollers in an electric socket. So when Annie Sawyer sets out to seduce Guy Donovan once and for all, she tracks down every book about sex she can find.... One of them has to work, right?
Another fun book. Annie is tired of waiting around for Guy to realize that she's not his sister. She has been in love with him forever it seems. So she's taking advantage of her sister-in-law's expertise and has decided that there's nothing left to do but seduce Guy to get her point across. I loved seeing Annie with her piles of books and magazines, all full of advice. It was even better to see the effect those things had on her brother Daniel and on Guy. Neither of them were too happy to think of her as being old enough to have "needs".
Guy has been all too aware of Annie for the last several years, but feels that it would be inappropriate for him to enter a relationship with her. He's got all kinds of issues, mainly stemming from feeling like he doesn't deserve her. He's getting desperate enough that he's actually considering marrying someone else just to make it impossible for him to be with her. Even his best friend Daniel tells him that the woman is all wrong for him.
When Guy is in a car accident on his way home from her house one evening, Daniel talks Annie into basically kidnapping Guy and taking him away. This would give Guy an opportunity to do as the others ask and really think about what he's doing. Annie is willing, because it would give her the chance to have him all to herself and try to have her way with him. The scenes in the hospital and right after they get to the cabin are hilarious, as Guy on pain meds is quite something to see. Once he starts coming off them, he is really confused about what is going on, and his resistance to Annie is very low. She gets her wish, but then Guy sticks his foot in his mouth and screws things up. I loved seeing Daniel 'splain things to him when he finally starts to realize what he really wants. The ending was great.
MESSING AROUND WITH MAX
Maddie Montgomery has decided that things have gotten critical. She needs a couple of notches on her bedpost -- fast! And rumor has it that Max Sawyer is just the man to show her the goods... and then some. Now, if she can just get past his dog....
This was hilarious. Max is the middle of the three Sawyers kids, and the one with the reputation of a playboy. But he's gotten tired of that lifestyle and is looking for something different. There is also more to Max than anyone realizes. His whole family thinks that he's somewhat lazy because he doesn't have a real job. All they see is the way he's constantly traveling and has avoided getting involved in the family business. Nobody knows that he anonymously writes an advice column, like his sister-in-law Lace, only for men, and he wants to keep it that way. He also recently adopted a dog - an overweight, ugly, emotional dog named Cleo. The dog's needs have him thinking about looking for a wife that would be willing to help him with the dog.
Maddie is a friend of Annie's who is looking for a man who will help her with her own needs. She broke up with her fiance after she found him cheating on her in a rather unique way. Now she wants some experience that will help her stop feeling like she's boring and Max seems like he'd be perfect for the job. So she shows up one day while he's working at Annie's bookstore, intent on seducing him into helping her. She can't believe he's not interested in a no strings encounter and does her best to convince him. But it isn't her seduction techniques that change his mind, it's the immediate connection she makes with his dog.
Pretty soon they've connected on a physical level, but Max really wants all of her forever. He just has to convince her. Maddie had made a big thing of only wanting him for some temporary sex, so feels she has no right to change the game. But she has fallen for him in a big way.